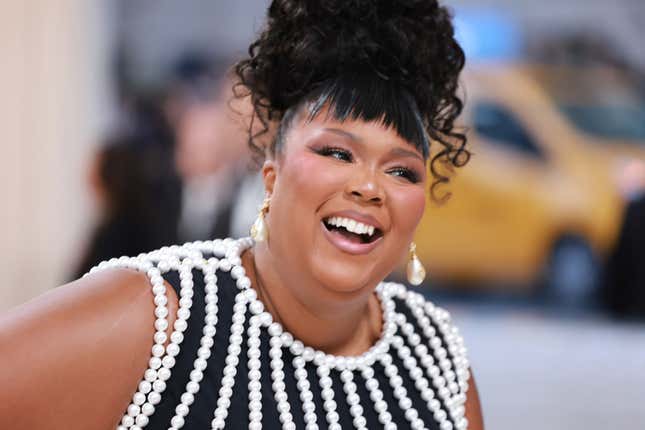 When you're plus size and start working out, people always think you're trying to get thin. Maybe that's true for some people, but for a lot of us, it's just about feeling healthy. It's one of those silly stereotypes that the uninformed, judgemental population believes about fat people. Superstar Lizzo uses her platform to promote body positivity and to dispel a lot of these myths. She recently posted a stitch on TikTok where she explained why she's recently been working out and yes, it has nothing to do with losing weight.

In response to a user who posted that their fitness journey is not about "trying to escape fatness," the Grammy winner said, "Heavy on the not trying to escape fatness. Heavy…fucking…on it. I just wanted to stitch this to show support to you because this creator, specifically, said, 'I'm looking for people that I can resonate with.' Very, very same."
The "About Damn Time" singer went on to explain how the expectations of her live performances is what leads her to stay in shape, both mentally and physically.
"I have a very high performance job. For 90 minutes a night, I have to do choreography, I have to sing, dance, I have to rap and have to play the flute," Lizzo said. "I have to emote and hype a crowd in very tight clothes. Sometimes clothes where it restricts my breathing. And it's fun, I love my job. It takes a lot of physical endurance to do what I do."
Lizzo revealed that early in her career she didn't take her fitness as seriously as she should, but she's become more aware of how her physical health connects to her mental health.
"As I got more professional in my career, I started to take the physical part more seriously," the "Juice" artist said. "I've always loved moving my body, I've always loved working out…I think a lot of people see a fat person that way and immediately just assume everything they are doing is trying to be thin. I'm not trying to be thin, I don't ever want to be thin."
This may not seem like a big deal to most people, but when you've spent your whole life in a world where fat jokes are completely acceptable, and strangers feel like they can judge your life based on how much you weigh, it means a lot to have someone like Lizzo speaking out for you. When thin people go for a walk, or ride a bike, no one bats an eyelash. Guess what? It's the same for fat people.