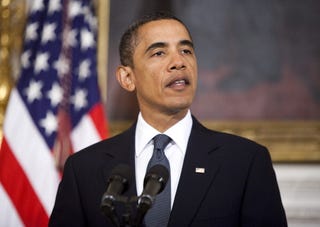 MSNBC is reporting that President Barack Obama predicted Tuesday that continued military and diplomatic pressure will force Libyan leader Muammar Qaddafi to "ultimately step down." In an interview with NBC Nightly News anchor Brian Williams a day after he addressed the nation about U.S. involvement in Libya, Obama refused to rule out providing direct U.S. military assistance to the rebels fighting Qaddafi's government. But he said that was unlikely and that his comments shouldn't be interpreted as signaling wider U.S. intervention in the region.
While people have speculated about why the U.S. intervened in Libya's affairs, President Obama stated, "Our primary military goal is to protect civilian populations and to set up the no-fly zone," he said, but "we're not taking anything off the table at this point."
"One of the questions that we want to answer is do we start getting to a stage where Qaddafi's forces are sufficiently degraded where it may not be necessary to arm opposition groups," he said.
Possibly arming the opposition? One of the questions that we want answered is why it sounds like our involvement in Libya may become more permanent, even though the president insists it's not imminent? Possibly arming opposition groups sounds pretty permanent to us. It is costing this country hundreds of millions of dollars — to the tune of $1 billion by some estimates — to be there. Tea Party members like Michele Bachmann are already calling this "Obama's War." The real question is, can he afford the cost of that?
Read more at MSNBC.
In other news: Alabama OKs Apology to Recy Taylor.
Like The Root on Facebook. Follow us on Twitter.