"If you build it, they will come." So says conventional logic—and the 1989 film Field of Dreams. According to a 2013 survey, the average American woman now wears a 34DD bra. So, what's the lingerie industry's excuse for not regularly building bras that are both accessible and attractive to women above a C cup? This is the question lingerie model-turned-lingerie maven Amber Tolliver is hoping to answer with the upcoming launch of her line of body-inclusive luxury lingerie, Liberté.
Dissatisfied with the options afforded to those of us with ... ampler assets, Tolliver is hoping to level the playing field, making shopping for lingerie that's both beautiful and functional a more democratic process. As a 32E, for her it's a mission as personal as it is professional, as she tells The Glow Up:
I would go into the store and be like, "I really love that bra in the window or on the display; can you pull it in my size so I could try it on?" And the answer would always be: "I'm sorry, we don't carry that size; that's way too big."

It just [got] to the point where I was like, "OK, enough is enough. I want to do something. I want to make a change. I want to really see if I can go after something that changes the game and is more size-inclusive and is more geared towards women who struggle with not wanting to be defined."
Aside from more than 16 years working as a model in the fashion industry, Tolliver knows construction; she started sewing in middle school to accommodate her rapidly growing frame, telling us: "Nothing ever fit me—I was this tall, lanky little girl who had 4 feet of legs and no torso. And so, it was just out of necessity and interest in creating something that I started sewing."
A few years later, that lankiness would prove lucrative when Tolliver went to an open call at Ford Models and was offered a contract on the spot. With her toned-yet-curvy frame, she soon found her niche as a favorite for lingerie brands. But as a model whose body never fully fit into either the straight-sized or fuller-figure categories, Tolliver has long had frustrations with the way the fashion industry marginalizes women:
The idea of this incessant need to define women—models, in particular—this insatiable appetite to box us into a specific category, and only then are we desirable. ... It's this idea of who holds the power and who holds these decision-making responsibilities. And I came to a point where I was like, "The answer is me. The answer will always be me."

But in doing that and taking my power back and taking control of my body and how I saw myself, I actually ended up coming to a beautiful place in self-acceptance and understanding that I don't need to perform for anyone. ... Being a black female, a black woman and a black woman in business, really understanding who I am is really important. Understanding the power that I hold within my own life is extremely important, because only then are you able to say, "I'm going to extend this power into other aspects of my life." You cannot be powerful outside of yourself until you're powerful within yourself.
G/O Media may get a commission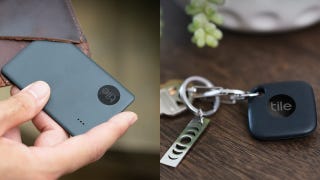 Up to 35% off
Tile Item Trackers
Now Tolliver is exercising her power as an entrepreneur, using both her own money and crowdfunding site Kickstarter to fund the launch of Liberté, a line of lingerie with luxury-level construction at a competitive price-point. Ranging in cup size from 32C to 38H and panties from small to 2XL, the line will debut later this spring in three colors—onyx, midnight and blush—retailing from $45 to $90.
When asked about the experience of using a public space like Kickstarter to raise money for a line of intimate apparel, Tolliver was clear that the impetus was as much about getting feedback as getting funding:
It's not just about being like, "Oh, use someone else's dollars"; it's about "No, see if your idea is commercially viable; see how many people you can get behind it. See how many people are actually interested in this." Because if you pay for it yourself and you do it all by yourself, you end up creating a vacuum. And so, the only person that you're talking to is you. And the only feedback that you're getting is whatever you're giving yourself or what friends and family are giving you. But that's not always honest.
Liberté's campaign concluded last October, having raised $34,000, a little more than the $30,000 goal. In the months since, Tolliver, the president and CEO of a devoted team of four, has learned firsthand the intricacies involved with launching a lingerie brand—including finding production partners that are the perfect fit. In fact, Liberté's launch was delayed when a round of factory samples from its first partnership proved unsatisfactory.
"For me, it's a luxury brand, so there's no half-assing this," Tolliver says. "Everything has to be on point because as women in this in-between place, we have enough options that are subpar and just 'meh.' So it needs to be spot-on."
Providing intimate apparel that is both inclusive and of extraordinary quality is Liberté's ultimate goal, and one it is steadily on track to meet. But most important to Tolliver is that the first thing we put on each morning is also an affirming experience.
"Let's be clear," she says. "Lingerie is for you."

The Glow Up tip: Intrigued by Liberté? You can sign up for its newsletter to receive production updates and be the first to know when it begins presale.