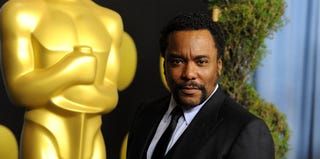 As we gear up for the 2013 Academy Awards, airing Feb. 24, The Root is speaking with black Oscar winners and nominees — past and present — about the prestigious honor.
(The Root) — Lee Daniels is a known risk taker who doesn't take no for an answer. It's not an option for him. And his persistence clearly pays off. His production outfit Lee Daniels Entertainment's first film, 2001's Monster's Ball, made Academy Awards history when Halle Berry became the first African-American woman to win an Oscar for best leading actress. Though he wasn't nominated that year, people became intrigued by the brown-skinned director and producer with a head full of coils.
Fast-forward and Daniels, 53, is now a two-time Oscar nominee — he netted best director and best picture nods for 2009's Precious: Based on the Novel 'Push' by Sapphire — and has become one of Tinseltown's sought-after filmmakers. A magnet for top-tier talent, Daniels just wrapped directing an all-star cast for The Butler, a historical account of a butler who served eight U.S. presidents, featuring Forest Whitaker, Oprah Winfrey, Alan Rickman, Terrence Howard and Jane Fonda. The movie will be released later in 2013. And when asked about a rumored Janis Joplin biopic in the works, he told us "maybe."
Daniels, who talked to The Root recently, exclusively shared his colorful commentary on Django Unchained, his experiences directing Oprah, why he's avoided the Hollywood blackout and why he loves Spike Lee.
The Root: You have an all-star cast filled with Oscar winners and nominees for The Butler. Do you think we'll see you listed among the nominees next year for this film?
Lee Daniels: I have no idea. I hate you for that question. What are you trying to do, drive me crazy, already? [Laughs.] Don't even put it out there — I can't take it! It makes me too nervous to think about it.
You know why? Because when I do films, I don't think about it like that. I think about bringing truth to the screen and entertainment to the audiences, and anything else is really icing on the cake. Because if I do a movie to get an Oscar, it's silly. It doesn't work like that. You have to work from a place of truth and try to entertain people.
TR: What was it like getting best director and best picture nominations for Precious?
LD: It's a fun ride. It's a very, very hectic one, though. It's busy, busy, busy, busy, busy. And I felt like my feet were barely touching the ground because you were whisked off and doing one interview after another, then one party after another. It's exhilarating. It's fun, exhilarating and a lot of hard work.
TR: Oprah seems to be very excited about being cast in The Butler, which is her first movie since 1998's Beloved. She's been tweeting photos of herself on set. What was it like directing her? 
 LD: Directing Oprah was fabulous. It was wonderful. She's wonderful. She is a very enlightened human being, very caring. She wasn't what I expected; I don't know what I expected, but it wasn't that. It was a joy, an utter joy. And I'm trying to find something else with her to do.
TR: Some people felt Django Unchained shone a light on part of the African-American story.  What do you think?
LD: You know, this is a first because I've avoided this question. But I'm going to give you the real. Django Unchained — I was deeply hurt by the movie. I was deeply offended by the movie. The movie made me angry. [Quentin Tarantino] has no right to our word; he has no right to that n-word. None. None. And thank you, Spike Lee, for speaking up and for having the balls to speak up. Thank God Spike Lee finally spoke up. I thought I was going crazy. Nobody else said anything; it was like everybody else thought it was great. No, it's not great for you to use "nigger," man! Who do you think you are?
I can't talk about it because it's very upsetting. And I'm expressing my opinion just like everybody expresses their opinion about my films one way or the other … There were great performances in the film. But I think African Americans, because we're so hungry to see ourselves on the big screen, we'll see anything.
TR: Do you think black people are a little too sensitive when it comes to in the n-word?
LD: No, I think we have to be sensitive about it. Anyone who's seen my movie The Paperboy knows exactly what I'm talking about. I make a big deal about the usage of the word. That word is a nasty word. It's a vile word. I think that we own the word. Period.
I can't judge from a white man's perspective if he's using the n-word. He made that word up in a negative way, so if he's using it, then it's negative to me. He has no right to it. I think that we own the word and we can do with it as we will … Does a woman like being called "bitch" a certain way? … Do Jews like being called their derogatory word? There's always that word that will send a certain person that it is said of into rage. It should. Do I like being called "fag"? No, no! I'm sorry; you don't own that — I do.
LD: I don't think he's a hater. I love me some Spike. Spike Lee is the reason why I'm here now. I love me some Spike Lee! I wouldn't be doing this if I wasn't inspired by him. He inspires me every day; he inspires my work with what he did to African-American cinema. He's incredible. It's almost a joke that people don't recognize that. It makes my blood boil that people don't recognize what he has brought to our cinema.
TR: Louis Gossett Jr. said to The Root that he'd like to see filmmakers like you or Spike Lee do a movie on real-life Djangos or cowboys like a Nat Love or Bass Reeves. Is that an option for you?
LD: Yeah, yeah! I got one in my repertoire coming; I got one coming. Yep, I'm developing something. It's not during slavery but right after slavery.
TR: For years there's been talk about blacks being excluded from the Oscars. You seem to have evaded that.
LD: It's not about the academy. It's about cinema being made so that it can be embraced by the academy, because when black people do their thing, we do our thing. And we'll be given accolades for it because when we're on, we're really on. We have to figure out how to get it on so that we can be recognized by the academy.
The hard part is getting cinema made … Nothing is more powerful than an African-American actor at his best. Just like nothing's more powerful than watching an African-American singer or dancer or athlete. We are the stars of what we do when we're on. 
TR: From your perspective, why is it such a struggle to get quality black movies made?
LD: My struggle is my own struggle in life, so I can't speak for everybody's struggle but, rather, mine. And my struggle has not been that difficult because I just don't take no [for an answer]. But I think that people give up — we give up easily. We don't recognize the power that we have.
Let me be very honest: Nos have been coming in very less [often], if at all, now because I've got them so much in the past that I know how to dodge them, and I know exactly how to navigate and know what expectations to put on myself. And you know, mounting Precious was a difficult task. A lot of nos did come in for that film, and so now I just know what to do to avoid the nos.
Previously in the Black Academy Awards Series: Oscar Champ Sounds Off on Image Awards.
Aisha I. Jefferson is a frequent contributor to The Root. You can follow her on Twitter or visit her at aishaiman.com.