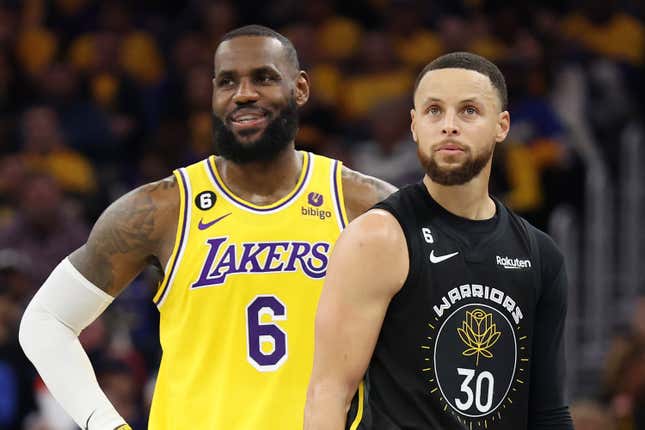 It's no secret that pro athletes make a ridiculous amount of money. We hear about it all the time. ESPN breaks into its regular programming when major stars sign new contracts. Even with a rough idea of what athletes are making for playing sports, it's still shocking to discover just how much they earned throughout the year. To that end, it's time to discuss Forbes' list of the top 10 highest-paid athletes of 2023. Before we get into the numbers, here are the details on how the outlet puts its list together. From May 1, 2022 to May 1, 2023, on-field earnings "include all prize money, salaries and bonuses earned." Off-field earnings "are an estimate of sponsorship deals, appearance fees and memorabilia and licensing income," as well as, "cash returns from any businesses operated by the athlete."

Elon Musk Has Opened the Floodgates For Racists On Twitter
Kylian Mbappé
The top of the list is dominated by soccer with World Cup standout/Paris Saint-Germain superstar Kylian Mbappé coming in at No. 3 with $120 million. He made $100 million on-field and $20 million off-field. This is a big jump for the 24-year-old, who was No. 35 last year. He used his post-World Cup popularity to sign new sponsorship deals and force the French Football Federation to rethink its stance on players' images, when he "refused to take part in sponsor activities."
LeBron James
Mbappé is followed by LeBron James at No. 4 with $119.5 million. He comes in with $44 million on-field and $75 million off-field. This split may be surprising to some, but the King is at a point in his career where he's making a lot more money off of his brand than his on-court game. When it comes to his entertainment endeavors, he's producing a lot of projects. In the last year he's continued as an executive producer on the HBO talk show, The Shop; the NBC game show, The Wall; and the comedy remake, House Party. Granted, that last one didn't make much money, but he also acted in the film and was likely compensated for that. Plus, if you've ever eaten at Blaze Pizza, LeBron got a piece of that check too, because he's an investor in the chain. He also holds stakes in the Boston Red Sox and Liverpool FC through his partnership in Fenway Sports Group.
Stephen Curry 
And because it feels like they're always competing nowadays, Stephen Curry also finds a place on the list. He comes in a few spots behind James at No. 8 with $100.4 million. That breaks down to $48.4 million on-field and $52 million off-field. Somehow, it seems like winning a championship should get you higher on the list. When he wasn't adding a fourth ring to his trophy case, Steph signed an extension with Under Armour and set his documentary, Underrated, at AppleTV+, where it premieres July 21. However, it wasn't all good news for Steph, as the collapse of FTX has seen him become involved in a lawsuit against the crypto-currency firm. Despite this setback, he's rebounded in the playoffs with more legendary performances as he tries to lead the Golden State Warriors to another title.
Kevin Durant
Rounding out the basketball superstar trifecta is the Phoenix Suns' Kevin Durant at No. 10 with $89.1 million. That's $44 million on-field and $52 million off-field. Though he hasn't played as much as he or his fans would like this season, he's still found success through his investing firm, 35V. As well-known and popular as he is, I do wonder if moving from New York City to a smaller market like Phoenix will hurt his earnings. Of course, his recent lifetime deal with Nike will probably help him work through any losses he might suffer.
In case you're wondering about the rest of the list, soccer star Cristiano Ronaldo once again leads the way with $136 million. The breakdown of $46 million on-field and $90 million off-field tells you just how popular the former Manchester United player is. He's followed by Lionel Messi at No. 2 with $130 million, which is split evenly at $65 million on-field and $65 million off-field.
Other notable names on the list include boxer Canelo Álvarez, tennis great Roger Federer and three golfers on the LIV Golf tour. Yes, that means there are no women in the top 10. We all know women athletes don't make anywhere near what men make, but it's shocking that not even Serena Williams with all her endorsements and investments could break into the top 10. It's yet another sign that things need to become a lot more equal in the sports world.