(Warning: Spoilers abound below.)
"Strange Fruit" echoing in the background of the show's opening minutes. A young black woman narrating. References to Fannie Lou Hamer and Harriet Tubman. Mentions of SZA and Solange. Testosterone might power Black Lightning, the superhero, but a healthy dose of estrogen helps drive Black Lightning, the series.
In the series, based on the DC Comic launched in 1977, actor Cress Williams (who's been paying dues as far back as Scooter on Living Single and Lavon Hayes on Hart of Dixie) plays Jefferson Pierce, a hometown Olympic-gold-medal hero-turned-do-gooder principal at Garfield High and community leader, forced to secretly crusade as Black Lightning. Forced because the father of two daughters—high schooler Jennifer (China Anne McClain) and medical student Anissa (Nafessa Williams)—still pines for their mother, Lynn (Christine Adams, Agent Weaver from Agents of S.H.I.E.L.D.).
Unable to handle the painful physical demands and the emotional toll on Jeff (broken bones, bloody wounds), Lynn made it painfully clear that there would be no "we" with Black Lightning around, eventually divorcing Jeff. And though he suppressed his superhero alter ego, opting to "save more lives as a principal," she has yet to relent.
However, that doesn't stop Jeff's eyes from burning with desire for only her (even though there is at least one woman waiting in the wings to happily scoop him up). Because, ultimately, he's "just a man who wants his woman back," he desperately wants to let go of Black Lightning, especially since there is clearly still love on Lynn's part, too—if only she would allow herself to go there. But despite Jeff's best intentions, the streets keep calling and derailing their reunion. Since his heart also bleeds for his girls, he will do whatever it takes to keep them safe, even if it means resurrecting Black Lightning.
But Jeff's daughters are no damsels in distress. Instead, they are formidable forces in their own right: Jennifer is "a standout scholar-athlete, just like her father," while Anissa chips in as a health educator. Both are intelligent and strong-willed free thinkers steeped in black history—and "herstory." While Jennifer is in the throes of teenage rebellion, Anissa goes #BlackLivesMatter hard for social justice. And though their father doesn't hesitate to protect them, Black Lightning shows that these young women are more than capable of handling themselves. In fact, their strength foreshadows the superhero gifts that surely await them.
G/O Media may get a commission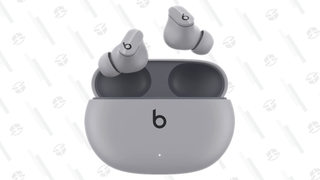 Still, some challenges are too big to fight alone. When the rebellious Jennifer entangles herself with local gang the 100, putting both herself and her sister in danger, their father is left with few options to save them. But Black Lightning soon discovers that he can't just use his gift to save his own and walk away; his entire community is in danger, and just putting in work at Garfield High isn't going to change that. However, his necessary heroics don't dim the community's female voices and concerns.
One of the more interesting developments in Black Lightning is that the 100's reign of terror very much includes the sexual violation and exploitation of young black women. Sex trafficking is actually tagged as one of their most egregious crimes here, while most crime stories in urban communities—fictional as well as real-life depictions—overlook the high price that black girls and women pay with their bodies and lives. It's a grim reality to address in a world that often acts as if black womanhood is expendable and black girlhood is nonexistent.
Equally refreshing, black female sexuality isn't just a straight affair. Through elder daughter Anissa, queer black women are represented and acknowledged. Though this is also true of the comic book series, television is notorious for not following the rules.
But Anissa's sexuality is not just significant to the superhero genre; queer black women are typically ignored in all stories, even in LGBTQ-focused ones—and especially in black ones. If they are depicted at all, as in the recent She's Gotta Have It, it's more fetishistic than real. Even as black gay men become more regular fixtures in television, demanding at least obligatory representation in contemporary black stories like Insecure, black gay women remain invisible—or seemingly unicorns, like in Survivor's Remorse. So Black Lightning's inclusion is a key departure.
Black Lightning seizes every opportunity to show that black women are very much an organic part of the black community, far beyond the classroom and the church. From the TV news anchor to the cop at the police station to the senator speaking at the school fundraiser, black women are well-represented here. And they aren't cookie-cutter in appearance, either—not even in hairstyles. Jennifer wears her hair straight and long and Anissa is loose and curly, while their mother, Lynn, is close-cropped. And as a bonus, the women featured are overwhelming chocolate sisters. So clearly the Kerry Washingtons, Issa Raes and Rutina Wesleys are making strong impressions on showrunners.
When it comes to how we are represented on the small screen, screenwriter and producer Mara Brock Akil just keeps raising the bar. From Girlfriends to Being Mary Jane—with a little of The Game in between—she has been a key catalyst for projecting images of the contemporary black woman on TV. That she's been able to accomplish this largely by creating and collaborating with her husband, Salim Akil, is even more impressive. Salim Akil might well be the driving force behind bringing Black Lightning to TV, but the execution clearly demonstrates that he and his wife balance each other out.
Even in the male-dominated superhero genre, the Akils have managed to adapt 1970s idealism to the harsh realities of now, without forcing black women to the background, while staying true to the comics' black-family spirit. With Black Lightning, they've created a TV series for the present that finally includes us all.