After almost a week of silence, Judge Mike Erwin of Louisiana's 19th Judicial District Court has released a statement denying that he called a black patron at Sammy's Grill in Baton Rouge, La., a "nigger."

Of course he did.
As previously reported by The Root, on Feb. 3 Kaneitra Johnson, a resident of Baton Rouge, struck up a conversation with a Lyft driver who was seated at the bar in Sammy's Grill.
Johnson had been standing the entire time, so when the man stepped away to go to the restroom, she sat down in his seat.
G/O Media may get a commission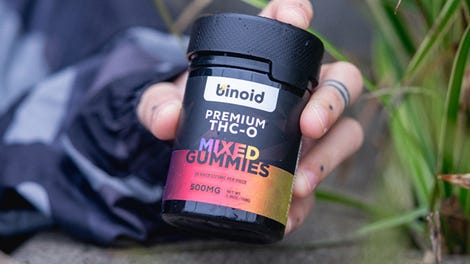 25% Off + Free Shipping
Binoid THC-O Gummies
"When he got back, I asked if he wanted to have his seat back and he said, 'No. I'm about to go anyway. But before I leave, I do need my jacket,'" Johnson said, recounting the incident to the Rouge Collection.
"All of a sudden I hear this older man behind me tell the Lyft driver, 'You never give up your seat for a nigger,'" Johnson continued.
Johnson said that Erwin became more belligerent as she and the driver continued to sit side by side at the bar. She alleged that he said, "You should have made her get her fat nigger ass up."
The East Baton Rouge Sheriff's Office, which is located in Erwin's district, spoke with witnesses who were at Sammy's Grill the night the incident took place, and apparently none of them heard Erwin call Johnson a nigger.
In fact, these witnesses seemed to have more to say about Johnson's alleged behavior than Erwin's, reports The Advocate.
According to one witness, Erwin was polite in the face of Johnson and her party's "very vocal and aggressive" behavior.
The one witness who initially corroborated Johnson's account of what happened recanted his statement.
In brief, once the good-ol'-boy network completed their so-called investigation and at least one witness was effectively silenced, Erwin decided that it was time to break his own.
He released the following statement Feb. 14. WAFB reports:
The original news and social media reports about the event that took place on February 3 at Sammy's Grill are not in any way consistent with what actually happened.

It was my intention to let law enforcement conduct their interviews and gather their facts before making a public statement. Now that the Sheriff's department has issued their report - which does not find one single witness that corroborates the original allegation - I can finally defend my actions and my record as a judge.

I never have, never would and never will utter the language I was accused of saying.

I have devoted my professional, legal and nearly 30 year judicial career working to ensure that each and every person that appears in my courtroom is treated equally under the law, I have never wavered from this and I will continue to treat each and every person equally and fairly.

I will not have any further comment on this matter.
The National Alliance for Social Justice, NAACP and the Nation of Islam are all calling for Erwin to be removed from the bench, reports new station WVLA.
"We feel that it is impossible for Judge Erwin to serve the people of East Baton Rouge Parish in a fair equitable manner when it is apparent that he has racial animosity towards black people," the Rev. Reginald Pitcher, with the National Alliance for Social Justice, said, according to the Rouge Collection.

Despite Erwin's protestations of innocence, it is much easier to believe that the cocoon of bigotry and white supremacy that defines the judicial system—particularly in the Deep South—is once again protecting one of its own.
Being called a nigger is not something that one lies about. Being called a nigger is something that lives with a person. It is something that has the potential to traumatize. It is something that forces black people to remember that the word is only as powerful as we allow it to be, but it is the language of a violent, white supremacist system that has, thus far, proved too powerful to be broken.
And it needs to be broken.
In the ways of white men drunk off power—and perhaps whatever else they were serving at the bar at Sammy's Grill—Erwin decided that he was offended by Johnson's presence. He felt that his whiteness, his maleness and his robe invested him with the authority to tell a black woman when and where she could sit.
And although the management of Sammy's Grill has banned Erwin from all of their properties because of the incident, it is still so easy for Erwin and his Barney Fife deputies to decide that his lie is more important than Johnson's truth.
Be clear: If Erwin has a problem with a black woman sitting, then every single decision he has ever made from his bench should be under review to ensure that there is reckoning, restitution and punishment for the institutional violence he is sure to have meted out.
But in a country where it is almost impossible to get justice for the extrajudicial killings of black and brown people, that will be an uphill battle.