After a historic buildup to the Martin Luther King Jr. Memorial dedication last August — a week of poignant events, and numerous reflections on the 15 years of work that went into it — the plan was scrapped in the wake of Hurricane Irene. Rescheduled for the morning of Oct. 16, the new dedication day has been scaled back but will still be packed with entertainers and prominent speakers.
Hosted by PBS NewsHour's Gwen Ifill (and preceded by an hour of musical selections and readings, emceed by journalist Roland Martin), the program will feature President Barack Obama, Nikki Giovanni, the Rev. Al Sharpton, Rep. John Lewis, Aretha Franklin, Cicely Tyson, Julian Bond, Jesse Jackson, Jennifer Holliday, Joseph Lowery and Mary Mary. The dedication is free and open to the public (no tickets required).
Harry Johnson Sr., president and CEO of the Martin Luther King Jr. Memorial Foundation, spoke with The Root about last summer's disappointing weather report, who made last-minute memorial donations and why there should be no controversy around holding the dedication on the anniversary of the Million Man March.
The Root: In August it looked like you were trying to hold on as long as you could, planning to proceed with the dedication "rain or shine." What convinced you to finally postpone it?
Harry Johnson: I was watching the weather pattern very carefully. Hurricanes can do a lot of things — they can turn at a moment's notice, for example, and go away from you. The first bit of news we heard was that it was turning eastward. That was a good sign because it meant that we'd get very little rain, and some wind that would pass over. Throughout the day, however, the news changed, and it was turning westward.
G/O Media may get a commission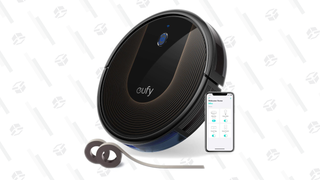 48% Off
Eufy BoostIQ RoboVac
My biggest concern was the wind. We had 27,500 chairs out there, portable bathrooms, bike racks and a stage that was several stories tall. Just coming off of the Indiana State Fair, at which a stage collapsed, I did not want to put anyone in harm's way.
Did it hurt to make the decision? Yes. But it was the right decision to make.
TR:  Why did you choose Oct. 16 as the rescheduled date — was it purposely selected to coincide with the anniversary of the Million Man March?
HJ: That was a coincidence. We were trying to get a date when President Obama was available, along with Cabinet members who are participating. This was the best date that we had.
TR: Can you tell us about the gala on Saturday night, preceding the dedication?
HJ: The gala's really just a thank-you, if you will, to folks who have helped build the memorial: people who donated, people behind the history of how it got started and people who helped to literally build it. It has been trimmed down a bit from the last time. We were going to do 5,000 at a seated dinner; now we're doing 2,400.
TR: In August, the memorial was $6 million short of its $120 million goal. Have more donations rolled in since then to narrow the funding gap?
HJ: Yes. Right now we're at about $117 million, so we're $3 million short. We had another million dollars come in from Boeing, and Major League Baseball donated a million dollars.
TR: Have there been any new celebrity donors?
HJ: No.
TR: There will be several hours of programming on the day of the dedication. What can people expect?
HJ: Our "Morning Joy" program begins at 8 o'clock on Sunday morning, so you won't hear a lot of joking and all that, but there will be gospel, poems and sincere words from various people. The actual dedication program starts at 9 a.m., with people giving readings and remarks. The historic Ebenezer Baptist Church choir will sing, as well as the Dupont Chemical Co. choir. People can expect to see a lot of reverence.
Cynthia Gordy is The Root's Washington reporter.