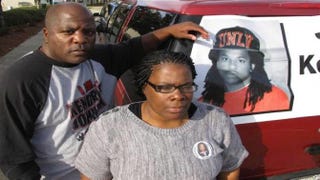 The parents of Kendrick Johnson, who have been relentless in pursuit of justice for the son they believe was murdered, are set to face a judge Monday for a protest that blocked a courthouse entrance.
According to CNN, Kendrick's parents, Kenneth and Jacquelyn Johnson, along with five family members, all of whom have dubbed themselves the "KJ7," face charges in connection with an April 2013 protest in which the KJ7 allegedly locked arms in front of a doorway at the Lowndes County Courthouse in Valdosta, Ga., and later a security checkpoint, shouting, "No justice, no peace."
CNN notes that the KJ7 reportedly planned the protest after they grew tired with the lack of information they received regarding Kendrick's death. The 17-year-old was found dead in a rolled-up gym mat inside his Valdosta high school in January 2013.
Jacquelyn Johnson told WCTV after being arrested in the 2013 protest, "I'm going to be right back out at the courthouse in the morning, ready to do it all over again, until we get justice."
According to the news station, the KJ7 "each face a charge of interference with government property," punishable with as much as a year in prison and a $1,000 fine.
Earlier this month, Kendrick's parents filed a $100 million lawsuit, claiming that several former classmates beat their son to death inside the high school gym. "We know who killed him," Jacquelyn Johnson told CNN. "We just have to prove it."