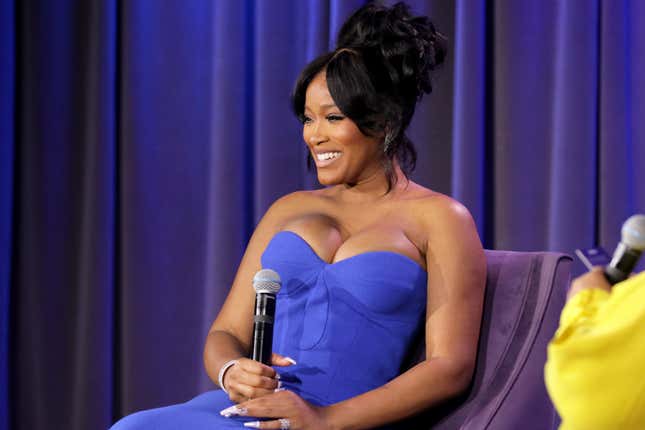 Keke Palmer is known for making us all smile and cackle often on our big and small screens, but she may have just caused a fun controversy thanks to her hot take on a beloved Black classic TV mom: The Cosby Show's Claire Huxtable.
Cosby Show & The Resident Star, Malcolm-Jamal Warner, Plays That's So Random
Speaking with host Terrell Grice on the popular YouTube show, the Terrell Show, the Big Boss actress joked that she felt like the character came across as "uppity" and did "too much" sometimes. She then went on to speak like her in an exaggerated manner, causing Grice—and most of those watching to laugh.
"Claire Huxtable—she was uppity, y'all. Bottom line! Bottom line," she said, later hilariously adding: "Girl, say what you saying! She got on my nerves sometimes. I'm like, 'Claire, keep it real, sister girl!'
However, as the now-viral clip began circulating on Twitter on Wednesday, many took fault with her statement—some even going so far as to take personal digs at Palmer by calling her a "baby mama" who would understandably have problems with a wife like Huxtable. Others claimed that Palmer's stance was "close to misogynoir" because the show depicted a Black woman in a lead role who wasn't suffering.
Some folks feel as if the discourse that Palmer's joke inspired is doing the most with the least and shouldn't be taken as seriously as it is. And honestly? I'd have to agree. We all know Keke Palmer is great at two things: keeping it funny and keeping it real. If that's how she feels about a fictional TV character, why is it cause for raking her over the coals about it? There are plenty of other Black sitcom hot takes that we should be focusing on instead, like:
Fresh Prince is better than Martin.
Dwayne Wayne and Whitley from A Different World shouldn't have gotten married at the end.
Tisha Campbell and Damon Wayans were a funnier couple than Tisha Campbell and Martin Lawrence.
Scooter shouldn't have left Khadijah and went on tour in Living Single.
And many more! (It should be noted here that I don't share all of these opinions—I share most—but not all.) The point is: if we all can't laugh at a joke—especially when it's Keke Palmer giving it—then what can we laugh at?