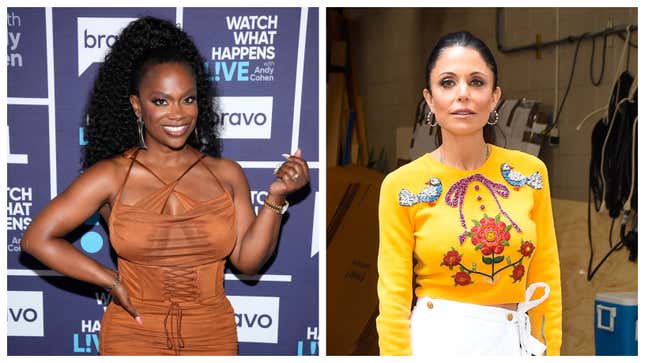 This summer Bethenny Frankel has taken to social media to voice her opinion about the contract agreements, residuals, and lack of respect for reality personalities in the wake of the writer's and actor's strikes. The former Real Housewives of New York star has officially been given support from SAG-AFTRA for her fight to give reality personalities Union rights. However, the support from fellow reality stars like Nene, Cynthia and Kandi is mixed.
Ubah Hassan Chimes In On Bethenny Frankel's Call For A Reality Stars Union | Securing the Bag: Part 4
Nene Leakes
One of the most vocal former Housewives Nene Leakes commented on July 19 with a little shade toward Frankel, "Agreed! I been saying this but they will hear you better than me."
Tami Roman
The Real World and Basketball Wives' Tami Roman commented on Instagram with her support, "I did get my start & continued success via reality television, I have gained substantial visibility on reality platforms, all of which I acknowledge. However I am DEFINITELY for unionizing!
Cynthia Bailey
Former RHOA cast member Cynthia Bailey spoke to The Daily Beast, giving Frankel a thumbs up, "I never thought that was really fair…for our likeness, to just be used [until] the end of time and not be compensated? I'm not opposed to joining the movement."

Bethenny Frankel
In one video posted on July 20, she states that reality stars are not fairly treated for their work and are treated like "the stepchildren, the losers, the mules, the pack horses, the ones that the entertainment industry is going to rely on right now to carry the water and do the heavy lifting when real stars, real A-list Hollywood is on strike."
Vicki Junvalson
Vicki Junvalson of The Real Housewives of Orange County commented, "Totally agree! We should be getting residuals for all the times they have used our footage. I got paid $0 season 1."



Buffie Purselle
Buffie Purselle of Married to Medicine: Atlanta agreed with the union proposal simply by typing, "Facts."
Anisha Ramakrishna
Anisha Ramakrishna from Bravo's Family Karma sent a few emojis in the comment section, " 🙌🙌🙌🙌."
However, one current Housewife isn't so gung ho about going against her current employer, NBC.



Kandi Burruss
Kandi Burruss is currently on RHOA and sat down with Entertainment Tonight to give her opinion about the demands of Bravo and the proposed Union. When asked if she has any experiences that should be added to the reasons to be upset with Bravo she immediately said, "Absolutely not". She went on to say that she takes matters into her own hands, "I feel like things that I feel or have felt needed to be addressed I actually reached out to the network and addressed them. I myself wouldn't be a part of that…I don't feel like you should wait 'til after you're not getting a check from them no more and then come back and try to go for their throat."
However, she is in favor of a Union for the residuals and ensuring other reality stars get healthcare, and "build a future".
Interestingly, Buruss' reluctance to go against Bravo comes at the same time that her reality show, Kandi & the Gang, allegedly has been revived by the network after being canceled in November 2022 after only one season on the air.
Bravo and NBC could just fire them
It's possible that Burruss has the same opinion as RHONY Luann de Lesseps, which is that a Union would be great but it wouldn't happen because networks would rather fire people and find new talent than put up with demands or current stars.