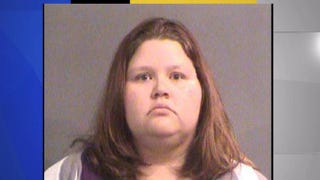 An ex-girlfriend of the man accused of killing three and wounding 14 others in a Kansas shooting spree has been charged with providing the ex-convict with the weapons, reports ABC News.
A criminal charge filed Friday alleges that Sarah Hopkins, 28, gave Cedric Larry Ford an Zastava Serbia, which is an AK-47-type semi-automatic rifle, and a Glock Model 22 .40-caliber handgun, which she purchased from a pawn shop, according to the U.S. Attorney's Office in Kansas.
Ford was killed by police Friday after he used the weapons to shoot up the factory where he worked, Excel Industries, in Hesston, Kan.
The Justice Department charged Hopkins with one count of knowingly transferring a firearm to a convicted felon. Ford had arrest records in Florida and Kansas, according to reports.
Hopkins, who lived with Ford last year, told police she moved out of his home in July 2015 and returned with police to retrieve the guns about a month later. However, Hopkins said that she returned the guns to Ford because he threatened her, according to the complaint.
Hopkins faces up to 10 years in federal prison and a fine of $250,000 if convicted. She is expected to make her first court appearance on Monday.
Read more at ABC News.