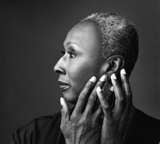 A legend makes her exit. From Black Voices:
All good things must come to an end, but for Judith Jamison, stepping down as as Alvin Ailey American Dance Theater's artistic director doesn't mean she's completely severing ties. The 2009-2010 season, which kicked off Dec. 2 at New York's City Center, celebrates Jamison's 20th year at the helm of what is arguably the most renown dance company in the world.

Although Jamison was running two dance companies at the time of Ailey's death in 1989, she told BV Newswire there was no hesitation in taking over the Alvin Ailey American Dance Theater.

"I loved the man," Jamison reflected this week from the company's headquarters in New York City. "I worked with him for 15 years, and when you are asked by someone you love to take over their life's work, there is no time for questioning. There was no great dilemma, you just do."

Last year marked the Ailey organization's 50th anniversary celebration, and the dance troupe was recognized by Congress as America's Cultural Ambassador to the World.
Continue reading on Jamison's exit at Black Voices