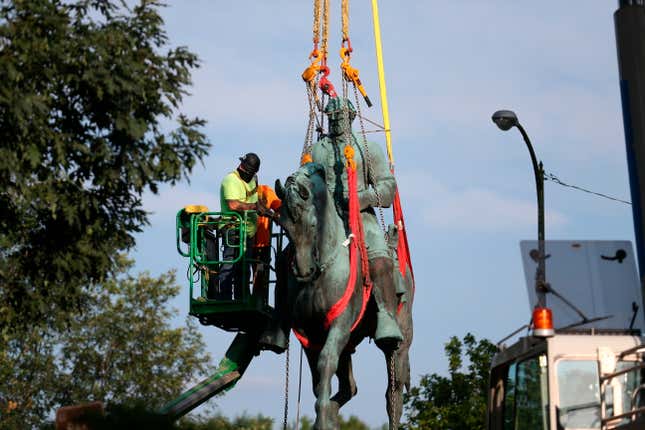 A Virginia judge dismissed an argument from two groups who wanted to bid for the ownership of the Racist E. Lee statue in Charlottesville, per The Associated Press. After it was taken down in 2021, history preservation advocates were scrambling to find ways to claim it for themselves, but the deal was sealed. Lee's statue will be in the hands of a Black history museum.

Oprah And Michelle Obama in The Light We Carry Is Our TV Pick This Week
That's not even the best part. They plan to MELT it!
Let's back up a bit. The report says the Trevilian Station Battlefield Foundation (dedicated to preserving Civil War sites) and the Ratcliffe Foundation sought an injunction to block the statue's destruction and start up the bidding process again. In an ongoing lawsuit, the groups argued that Charlottesville donating the statue to the Jefferson School African American Heritage Center, while knowing it will be destroyed as a result, was against the law.
Charlottesville Circuit Court Judge Paul Peatross wasn't hearing it. While sustaining the Virginia Procurement Act allowed the groups to question the bidding process, the judge dismissed their argument that the city's actions were unlawful.
The center plans to melt down the statue and use the material to make a new piece of public art or, as I see it, repurpose something made to honor a hateful person into a piece to honor those he oppressed.
Read more about it from a previous report by VPM News:
Andrea Douglas, executive director of the Jefferson School, met with supporters outside the courthouse before the Monday hearing.

"We shouldn't even be here today," Douglas said. "We should have just been able to do what we wanted to do because it's what we decided for our city."

The organizations asked the court to require the Jefferson School to publicly disclose the current location of the statue, as well as whether it's been disassembled or damaged in any way. The court agreed to give plaintiffs limited access but declined to allow the statue's whereabouts to be made public.
The statue was once a center of attention between the Unite the Right riot in 2017 and criminal justice protests in 2020, as people demanded monuments honoring the Confederacy be taken down.
Lee's statue was just one of many Virginia officials have ordered to be taken down. We can expect to see similar pushback as advocates work to remove the rest of the Confederate monuments across the south.