I can be prone to hyperbole. I can see proof of it in my daughter, who has adopted my penchant for saying, "This is my favorite song ever" for nearly every song she hears that she likes. We don't do things small in the My-Last-Name-Isn't-Really-Jackson household.
I remember once playing the Sylvers' "Even This Shall Pass Away" for probably six hours on repeat and declaring out loud to nobody in particular that it was impossible for any song to be better than this. Until hour seven, when I stumbled upon the Free Design's "Love You" and edited my former declaration to correctly state that this new song was the impossible mountain to climb. Wash. Rinse. Repeat. I can really kill a solid 24 hours with three songs. (I love perfect vocal harmonies.)
So it is in this context that I have fallen in love with the Questlove Supreme podcast. It's like it was 'pacifically created for black music nerds (and music nerds in general) like me. I have fallen so far down the rabbit hole that I try to find reasons to get in the car and go places just so I can listen to as much of this show as possible. But there was one episode—well, three-part miniseries—that I actually waited to listen to because I know it would, hyperbolically, change my life. Turns out I wasn't wrong.
Jimmy Jam and Terry Lewis are pretty much responsible for my childhood. I grew up in a household where music was everywhere. My dad had a gift for buying random shit for the sake of buying random shit, which, fortunately for me, often included tapes and CDs. My father is literally responsible for the minuscule album sales of so many random R&B groups from the '80s, groups that I feel like only the artists' spouses and me appreciate. Do you remember the group Kiara? Probably not. They don't even have a Wikipedia page. Do you know how hard it has to be to have released albums and NOT have a Wikipedia page? I have their album, Civilized Rogue. My father and, by default, I really loved "You're Right About That," though.
The vast majority of music that was played in my house in the '80s was sponsored by the city of Minneapolis. Jimmy Jam-and-Terry Lewis-produced recordings and albums were all up and through our collection, from Janet Jackson to Karyn White to George Michael to Klymaxx to the SOS Band to, well, you get the point. I've been an avowed stan of the production duo since I can remember paying attention to liner notes, and even before I knew who was responsible for the music.
G/O Media may get a commission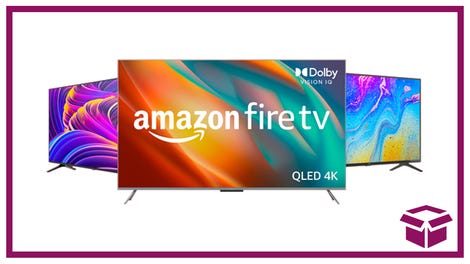 Ooh. stunning.
New Amazon Fire TVs
As I've gotten older and become an audiophile and gone through (and grown out of) my music-snob phase and even dabbled in music production, I've gained so much more of an appreciation for the stories about the creation of music and the environment in which that creation took place. I devour oral histories of albums, regardless of genre, because learning creative processes is both helpful and riveting.
So when I saw Jimmy Jam listed, it was like a Christmas gift for me. But, like, the big one. The one you've been waiting for, so you open everything else up first and slowly, because you don't want to ruin the moment of unwrapping that gift you really care about. I don't even know how to say this without sounding like I'm being extra, but it's true; I was that excited.
I learned so much. In fact, while listening, I immediately thought about how I felt reading Q: The Autobiography of Quincy Jones, and how inspired and amazed I was (and how much I learned), and how I decided it was going to sit on my bookshelf near my Bible from there on out. Jimmy Jam took us to the very beginnings of his musical journey, through the Time (and Prince years), the creations of his greatest works and the matter-of-factness of their creation. I don't think musical geniuses realize it sometimes, but good gracious, he spoke of his journey like I do going to the grocery store.
But the stories. For instance, my mind was BLOWN to find out that Janet Jackson's "That's the Way Love Goes" and "If" were both ENTIRELY composed on an Ensoniq keyboard. The guitar parts are so central to the songs, and none of them was played with an actual guitar. Mind. Blown.
I found out that Lisa Keith was white, which, I guess, a simple Google search would have shown me, but I really never thought about it. Clearly I wasn't watching videos back then. I've listened to "Making Love in the Rain" (sampled for Bone Thugs-n-Harmony's "Days of Our Lives" from the Set It Off soundtrack) a cool MILLION times in my life—I'm listening right now—and I'm still having my own Bobby Caldwell moment.
I argued, quite controversially, once that Janet's albums are better than Michael's because they're actually albums and not just collections of singles, and that is in large part due to Jimmy Jam and Terry Lewis. I still believe this, by the way. Questlove even alludes to Michael chasing Janet after Rhythm Nation came out; apparently Michael loved that album and brought in Babyface and L.A. Reid to try to help him craft music that could compete, so to speak.
I actually took notes while listening to this three-part podcast. For instance, did you know that Jimmy Jam and Terry Lewis made what would become Janet's "Runaway" for Michael? He passed on it, opting for "Scream" (produced by them) instead. Also, Janet was VERY happy he passed on it, because she wanted it, even though, listening to it, it SOUNDS like Mike would have bodied that beat with whatever he would have done over it. I wrote that down. Also, I have AN ENTIRELY newfound love for Alexander O'Neal after hearing how he refers to himself in the third person, and Jimmy Jam's impersonation of the conversation that got O'Neal kicked out of the Time.
O'Neal needs pools and thangs. I wrote that down, too. The whole episode was full of gems like that, including why "Saturday Love" has one verse repeated twice, which I never even thought about UNTIL the podcast.
Hyperbolically speaking, my life is now more fulfilled after listening to Jimmy Jam talk about his life in music, creation, and even getting his kids into music and their own journeys because I do think about my own daughter, who wants to start a blog now. I'm like, wow, that's pretty cool—one of my kids is inspired by me—while knowing at least one won't care one bit.
If you grew up in the '80s and '90s and the sounds of Janet Jackson and Minneapolis basically ruled your home (they're still making music now, beeteedubs), and you are in any way a music nerd who loves to hear how weirdly assholish Prince was, then I don't know what else to tell you except to get your ass to the podcast quick, fast and in a hurry and block out hours for the awesomeness that exists in Jimmy Jam telling us his and Terry Lewis' story.
Thank me later. You're welcome.