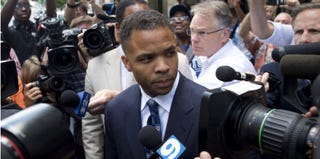 Disgraced former Rep. Jesse Jackson Jr. is set to sell his high-priced townhouse in the nation's capital to pay back the $750,000 of campaign cash he spent on furs, vacations and a Rolex watch, the Chicago Tribune reports.
Jackson, 48, was sentenced to two and a half years in prison Aug. 14, but he is still a free man and is expected to report to prison by Nov. 1, the Tribune reports. 
The townhouse, which was built in 1921 and boosts such luxury features as five fireplaces, a gourmet kitchen, a sunroom and a rooftop deck with a Jacuzzi, was briefly listed in 2012 and could fetch as much as $2.5 million.
Read more at the Chicago Tribune.