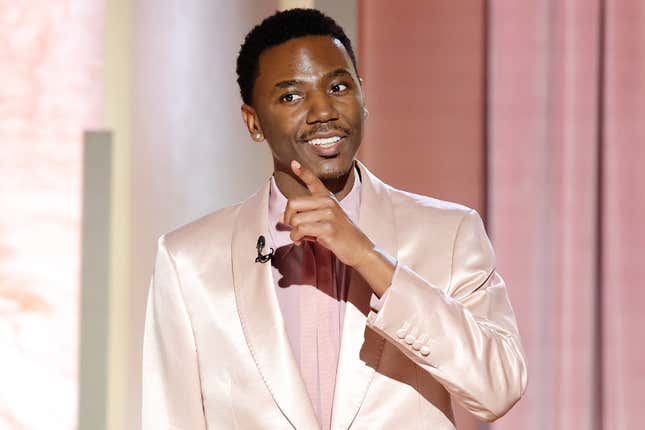 Last night may have been the first and last time Jerrod Carmichael hosts the Golden Globes. The Hollywood Foreign Press Association Golden Globe Awards has become known for its scandals. From not having any Black members among its ranks, to actor Brendan Fraser alleging that HFPA president Philip Berk groped him, the ceremony was canceled last year and for good reason.
There were also accusations of bribery—particularly an extravagant press trip to Paris that resulted in several nominations for the popular Netflix series Emily in Paris. During his opening monologue Tuesday night, host Jerrod Carmichael—who is the first Black person to ever host the show—decided to tackle the controversy head on.
"Hello. Welcome to the 80th annual Golden Globe Awards. I am your host, Jerrod Carmichael. And I'll tell you why I'm here. I'm here cause I'm Black," he stated. "This show, the Golden Globe Awards, did not air last year because the Hollywood Foreign Press Association—which I won't say they were a racist organization, but they didn't have a single Black member till George Floyd died, so do with that information what you will."
Carmichael also said he told his friend, Avery, how much money he was being paid to host the show: $500,000. "Boy, if you don't put on a good suit and take them white people money," Avery told him. The comedian also confessed that he refused to meet with HFPA President Helen Hoehne about the "changes the organization has made with regards to diversity."
"I took this job assuming that they hadn't changed at all. At all. I heard they got six new Black members. Congrats to them, whatever. Sure. That's not why I'm here. I'm here, truly, because all of you—I look out into this room and I see a lot of talented people...regardless of whatever the Hollywood Foreign Press Association's past may be, this is an evening where we get to celebrate.
"And I think this industry deserves evenings like these," Carmichael said. Despite saying the industry had the right to celebrate their wins, that didn't stop the host from telling the audience to "shut the f—k up" later on in the evening. We doubt he'll get a callback to host the ceremony next year.