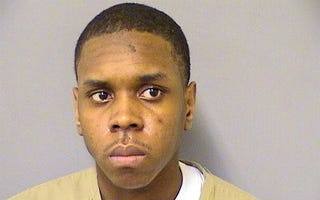 More than two months after a jury convicted William Balfour of killing three members of singer-actress Jennifer Hudson's family, he was sentenced on Tuesday to life in prison in front of a Cook County, Ill., judge, according to Time magazine. Hudson's mother, brother and nephew were found slain at the family's South Chicago home in 2008.
Hudson, who attended every day of William Balfour's trial earlier this year, sat next to her sister at the hearing and at one point dabbed her eyes with a tissue.

The sentencing hearing came a little more than two months after a jury convicted Balfour in the Oct. 24, 2008, shooting deaths of Hudson's 57-year-old mother Darnell Donerson, her 29-year-old brother Jason Hudson and her 7-year-old nephew Julian King. The judge sentenced Balfour to three terms of life in prison plus 120 years on other charges.

"You have the heart of an arctic night," Cook County Circuit Judge Charles Burns told Balfour. "Your soul is as barren as dark space."

Prosecutors portrayed Balfour, who was married to Hudson's sister Julia Hudson, as a jealous estranged husband who often stalked Julia Hudson's house after he moved out in early 2008. But Balfour's attorneys suggested that someone else committed a crime in the family's three-story house in Englewood on Chicago's South Side.

Balfour faced a mandatory life sentence. Illinois does not have the death penalty.
Read more at Time.