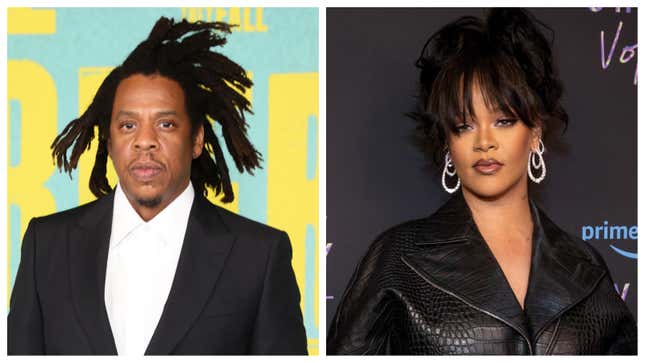 With merely weeks before Rihanna's Super Bowl Halftime Show performance is set to take place in Glendale, Ariz., we now have a clue as to who else may be coming along to join in on the fun—and it's none other than Roc Nation label owner Jay-Z.
Music Producer & Beyoncé Collaborator, Dixson, Plays That's So Random
Per CaptialFM, both Jay and Roc Nation will be putting their full weight behind Rih's upcoming performance though specific details remain at a minimum. Seeing as how Rih is signed to Roc Nation, and Jay and his label serve as the NFL's "live music entertainment strategist," it'll be interesting to see what kinds of stops and surprise stunts they pull come February.
As previously reported by The Root, the Anti singer is deep in prep mode for the big day. In addition to releasing a limited edition Savage X Fenty Game Day Edition line that features hoodies, t-shirts, hats, and sweats, Rih also released a teaser trailer just ahead of the Martin Luther King Jr. holiday weekend that only sent fans spiraling deeper into their anticipation.
In the only 30-second clip, you hear a mix of voices talking about how long it's been since we've gotten new music from the "Lift Me Up" singer. At the same time, Rih is seen walking and moving effortlessly while she sports an intricate, braided updo and a long, green fur coat that only she could pull off. And in a fitting closer, she puts her finger up to her lips, essentially "shh-ing" the talk as her 2016 hit "Needed Me" plays over the Apple Music Super Bowl Halftime logo.
Now I don't know about you, but as far as I'm concerned, this is a Rihanna concert with a little bit of football sprinkled into it and it's one that's LONG OVERDUE. So I, for one, will be counting down the days until I can cheer for her from the comfort of my couch next month.