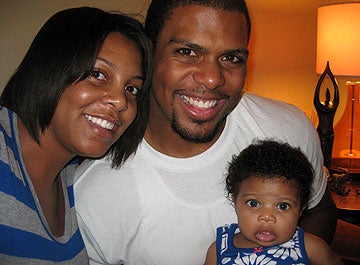 Sean Jensen of Yahoo Contributor Network is reporting that former Arizona Cardinal Jason Wright has passed on an NFL contract worth $1 million per year in order to pursue an MBA at the University of Chicago's Booth School of Business. A Northwestern University graduate, Wright plans to open a charter school that helps to empower inner-city youth. 
Wright, who has played in the league for seven years, decided to follow his faith in God and what is best for his family. He determined that his need to be in the NFL was "superficial" and that he instead needed to follow his calling. Wright's wife was also ready to move on. The family has been committed to helping the community, working with three young women, one of whom they took into their home after learning that she was homeless.
Jensen reports that Karissa Lockwood, 20, a student at Mesa (Ariz.) Community College said, "They cared for me and loved me." She added, "People ask me who my family is. They're my family now."
It is always wonderful when someone chooses to follow his faith and do what is best for his family instead of bowing down to the hype. Wright has learned at a young age that you cannot allow others to determine who you are or who should be, particularly when you know in your heart of hearts that you should be doing something else.
People often stereotype athletes as being superficial and empty. Wright is disproving this stereotype while making a difference for his family and his community. That is winning in the game of life.
Read more at Yahoo.
In other news: African First Ladies Send First Tweets.