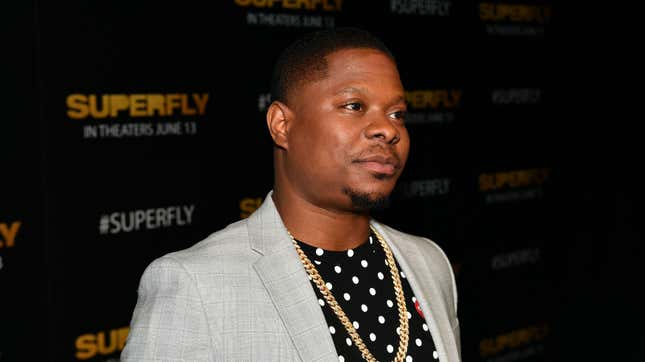 Jason Mitchell, an actor who was once considered to be a rising star given his critically acclaimed performances in Straight Outta Compton and Mudbound, appears to be in some serious trouble.

My Hip-Hop Story: Cedric The Entertainer On Jay-Z and His Indisputable Role In Shaping The Genre's Culture
The 32-year-old actor has been released from representation—including his agent and manager—as well as being removed from two of his most prominent projects, Showtime's The Chi and Netflix's upcoming flick, Desperados.
According to Deadline, reps from UTA, Authentic Talent & Literary Management, Good Universe (the production company behind Desperados), as well as Fox and Showtime (The Chi) have all confirmed Mitchell has been dropped from representation and the aforementioned projects, declining further comment.
The Hollywood Reporter expanded on the news with more details, noting:
A source with knowledge of the Showtime series says Tiffany Boone, who played Mitchell's girlfriend on The Chi, was among several actresses on the series who had issues with Mitchell. She made repeated complaints of sexual harassment and allegedly felt so unsafe with her co-star that at times her fiance, Dear White People actor Marque Richardson, came to set when she shot scenes with him. Boone declined to comment.

The source also says Boone ultimately informed producers at Fox 21 that she could no longer work with Mitchell. Initially, he was retained while she was released at her request to pursue other projects. Other actresses on the series also were said to have had problems with Mitchell. It's unclear what finally led the studio to act.

Mitchell had not yet started filming Desperados, a comedy set in Mexico, when he was replaced in recent weeks by Lamorne Morris (New Girl). A source close to the project, which Lionsgate's Good Universe is producing for Netflix, says the producers received "specific information which was investigated immediately and thoroughly and dealt with as quickly as possible."

Netflix referred queries to Good Universe, which declined to comment. Sources said all three of Mitchell's co-stars on the film — Nasim Pedrad, Anna Camp and Robbie Amell — had complaints about Mitchell.
In late April, it was announced Showtime's The Chi had been renewed for a third season. At the end of the second season, Mitchell's Brandon and Boone's Jerrika were undergoing complications in their relationship. "It's definitely a roller coaster ride because they're two people who love each other, but from totally different worlds, and you start to see their worlds become more prominent as they both try to be more successful," Mitchell told The Root in an interview earlier in the month. "Brandon, he can't catch a break and I'm biased about because I personally felt like Jerrika should have heard him out [regarding] the situation with Kevin. But you get to see this growth between then, and it's a rollercoaster ride. Brandon definitely wants the best thing for him and Jerrika and he knows Jerrika is a great thing for him."
The Root has reached out to Mitchell's legal team for comment.