Macaroni and aluminum foil.
In 20 years, when two-thirds of the Senate is filled with graduates from Atlanta's Historically Black Colleges and Universities and you spot me on the White House lawn talking to the new Secretary of Clapback, Angela Rye, if you ask me what I brought to President Janelle Monáe's inauguration cookout, now you'll know that I asked my aunt Phyllis to prepare a few pans of macaroni and cheese.
And yes, I got my bottle of brown liquor past Secret Service ...
I know it sounds improbable right now, but after The Root joined co-chair Michelle Obama's "When We All Vote" event at Atlanta's Spelman College on Thursday, I'm pretty sure I'm voting for music superstar Janelle Monáe as the next president of the United States. I don't care that she hasn't announced her candidacy yet; she's my president.
Black excellence was on full display on Thursday as Spelman hosted students, alumni and volunteers from Morehouse College and Clark Atlanta University as well as activists and citizens from the Atlanta community. The event was sponsored by When We All Vote, a nonpartisan organization co-chaired by Michelle Obama that seeks to register and educate voters.
CNN political analyst Angela Rye, the smart cousin who keeps receipts on her at all times, served as emcee. (In this instance, "emcee" means Rye served as master of ceremonies, although I feel like she could spit a hot 16 dissing Trump if she were in a cipher with Maxine Waters and Cory Booker.)
G/O Media may get a commission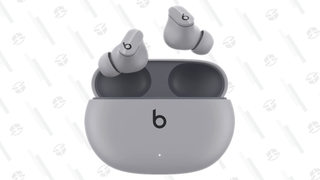 In her return to her Atlanta stomping grounds, Monáe gave a short address to young voters that rivaled Barack Obama's "We Are the Change We Seek" speech. Monáe told the stories of the women who taught her the importance of voting, including her mother, a janitor and her grandmother, a sharecropper in Kansas.
"I vote because of my ancestors, who fought and died so we could have this right," the six-time Grammy nominee and future presidential nominee noted.
I don't know if it was because the event was at Spelman's historic Sister's Chapel, or because of the black excellence on display, but I almost caught the Holy Ghost at least two times during the speeches from students leaders and first-time voters who stressed to the packed house that registering and voting is important, but voter education is also key. The crowd also watched a personalized video message from Michelle Obama, and volunteers from the institutions registered voters on site as well as urging them to text 97779 to receive personal updates on registration and voting.
The Root served as the official media sponsor for the event, which was one of more than 2,000 events held during When We All Vote's Week of Action.
Neither Janelle Monáe, Angela Rye nor Spelman College are responsible for the content of my aunt Phyllis' macaroni.
Check out some photos from the event below: