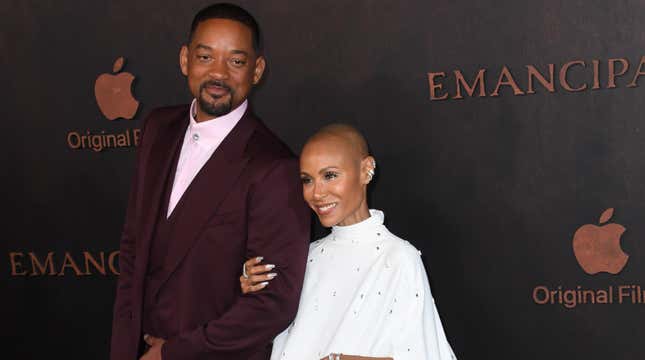 In a recent interview, Jada Pinkett Smith confirmed that Red Table Talk will return. The star, whose memoir, Worthy, will be released on October 17, told People Magazine that the award-winning series is "definitely coming back."
Vivica A. Fox Talks The Interrogation Room, Iconic Roles, & Where She'd Hide A Body
Red Table Talk halted production in April when Facebook Watch's parent company Meta shut down the platform and subsequently all of its original programming. However, the Gotham actress said that there has been interest in renewing the show.
"We've had a couple of platforms reach out to us," she stated. "And we have some interesting avenues that we're looking at now. You know me, I'm always looking for the next innovative thing. Actually, there's one idea that we have in mind that I'm kind of excited about that will probably be happening, maybe, close to the release of the book.
"We've got some really interesting stuff happening with RTT. I'm excited about that journey as well."
The popular series premiered in 2018 and received a Daytime Emmy for Outstanding Informative Talk Show in 2021. It was also the backdrop for shocking interviews, including one with hubby Will Smith about the ups and downs of their marriage.
In April, Smith wrote on Instagram: "We are so grateful to have had such a beautiful partnership with Facebook Watch and we are sorry to see the entire team disband. We wish everyone well in their new journeys to come. We at Red Table are in talks of finding a new home and we'll see you soon."
In addition, Smith also said that fans will learn more about her life with the release of Worthy, even though many believe they have a firm understanding by watching Red Table Talk. "So many people feel because of my talk show Red Table Talk that they know my journey. And they really don't. There's been so much about my journey that I haven't really been able to share on a format like RTT."
She continued: "I think people have made a lot of assumptions. And you know what? Rightfully so. I have to take ownership of that, in regards to the narrative that I've participated in, the falsehoods about myself. In the book I really explain all of that extensively as part of my reclamation journey."
Smith's book tour is slated to begin in October.