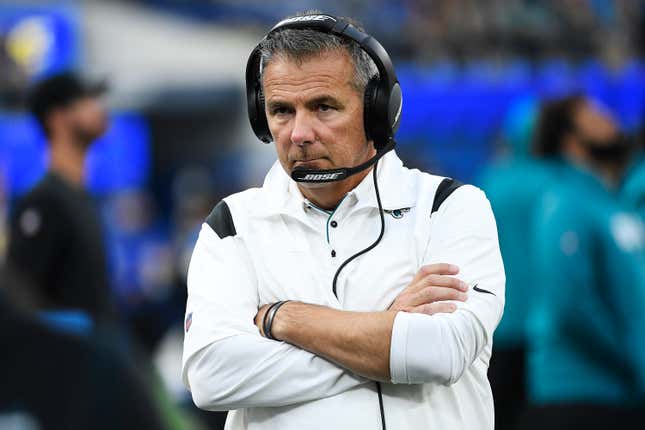 Okay, Lord, we get it. The Jacksonville Jaguars are cursed.

How else can you explain the franchise's penchant for always making the wrong decision, be it front office hires (Tom Coughlin anyone?), draft picks (Justin Blackmon anyone?), free-agent acquisitions (Julius Thomas anyone?), or arguably their most egregious blunder yet: Reeling in a college football demigod to detonate their defective organization from within?
Somehow, in a world in which the likes of Rod Marinelli, Hue Jackson, and Bobby Petrino exist, current former Jaguars coach Urban Meyer has established a new standard for ineptitude. So much so that a mere 13 games—13 games!!!!—into his NFL coaching tenure, the three-time college national champion has been relieved of duty, effective immediately, per ESPN.
"After deliberation over many weeks and a thorough analysis of the entirety of Urban's tenure with our team, I am bitterly disappointed to arrive at the conclusion that an immediate change is imperative for everyone," owner Shad Khan said in a statement on Thursday. "I informed Urban of the change this evening. As I stated in October, regaining our trust and respect was essential. Regrettably, it did not happen."
Not everyone is fit to lead; it's a tremendous burden that requires all of the gripes and oftentimes none of the glory. But when you insist on micromanagement, alienate invaluable personnel that are essential to your success, eliminate what's proven to work in favor of unproven methods that clearly don't, refuse to organize or communicate effectively, elude professionalism or accountability, and bring in people who are woefully unqualified solely because of their proximity to you (more on that later), there's about a 98.4 percent chance that you're gonna fail. And to that end, here are just a few things that made Meyer's tenure with the Jaguars the most disastrous in NFL history:

Remember in February, when Meyer hired Chris Doyle as Jacksonville's director of sports performance despite the fact that Doyle was fired from his previous gig for being both racist as shit and abusive toward student-athletes? Of course, you do! Because you read about it here at The Root! Then remember in May, when Meyer brought in a 33-year-old quarterback "tight end" to play tight end, even though they had never played tight end in their entire fucking life and hadn't played a single down in the NFL since 2015? Yeah, yeah, I know. You read about that at The Root, too. I think it's safe to say that neither of these moves worked and only served as ominous signs of things to come.
Remember when Meyer told the entire free world that he would cut players based on their vaccination status—which is the exact type of thing you should never admit in public, kinda like not knowing how to play Spades—only to get investigated by the NFLPA for being stupid enough to say something like this with a microphone in his face?
Remember when Meyer deprived his rookie franchise quarterback, Trevor Lawrence, of invaluable first-team reps in training camp, only to trade the dude who was stealing his reps? Even though Meyer knew that Lawrence would be his starter?
Remember when Meyer was like, "Yeah, I know our team just got wrecked by the Bengals, but instead of catching this team flight back to Jacksonville with my coaching staff and players, I'm gonna stay in Cincinnati and catch up with the fam."? But instead of reading bedtimes stories to his grandkids, his married ass was out at the bar testing Megan Molly Thee Stallion's knees?
Remember when Meyer already had James Robinson on his roster—a dude who ran for over 1,000 yards and seven touchdowns last season—and was like, "You know what this team needs? A running back!" So he drafted one with a first-round pick in the 2021 draft? Then was like, "Hell, we didn't even want [Clemson running back] Travis Etienne. We really wanted [New York Giants draft pick] Kadarius Toney."
Remember when Meyer got in a lover's quarrel with his own wide receiver, Marvin Jones, then dismissed his assistant coaches as "losers" and demanded that each of them explain what it is that they've ever won?
Remember when former Jacksonville kicker Josh Lambo (not to be confused with Nissan Sentra) accused Meyer of kicking him in the leg during practice?
Remember when the Jaguars were 2-11 and I had to write this article because the team was like, "Aiight, enough of this shit. This Urban Meyer guy has gotta go!"
Call it a hunch, but I think it's safe to call Meyer's tenure a catastrophic failure.