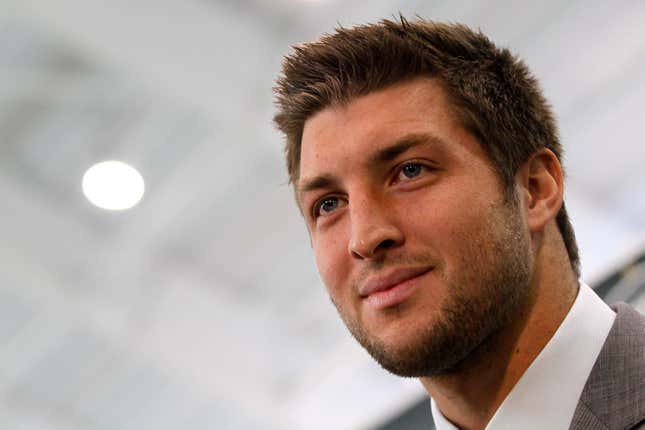 It's a privilege to play in the NFL, and while there are plenty of talented players deserving of such a prestigious honor, Tim Tebow has proven time and time and time again that he's not one of them.
Disney Channel's Saturdays Is Our Black TV Pick Of The Week
But thankfully, he's white, which, in America, oftentimes is more than enough to be rewarded with opportunities that are by no means deserved.
He's a failed quarterback (for four different teams), a minor league outfielder (allegedly), an astute affable college football analyst, a devout Christian, a LeBron James-endorsed TV host, a children's book author (despite being dyslexic), a filmmaker, a staunch pro-life supporter, a tech entrepreneur, and the recipient of one of the most egregious examples of white privilege I've probably ever seen in my entire fucking life.
But one thing he absolutely is not, under any circumstances whatsoever, is a professional football player.
So when his former college coach Urban Meyer—the same Urban Meyer who, after becoming the Jacksonville Jaguars coach in January, proceeded to hire a guy who was fired from his last football gig for constantly spewing racist bullshit—revealed that Tebow, who is now 33 years old, recently worked out for the Jags, I laughed out loud because there was no way in hell this actually happened.
Tim Tebow???? The same Tim Tebow who hasn't played a snap in the NFL since 2015? That Tim Tebow? I knowwwwww you're fucking lying.

But it gets better. Because lo and behold, not only did the 2007 Heisman winner try out for the Jags, he tried out at a position he's only played one time his entire career: tight end. And for those wondering how that went, prepare to be amazed:

"Tim has come in and worked out as a tight end," Tony Khan, the Jags' chief football strategy officer, told Bleacher Report. "That's not a position that we've seen him play, but it's a position that he's been practicing at with us. So that will be interesting to see how that contributes to us on offense, too. Obviously Urban knows Tim really well and Tim has got a great history of winning. Urban really believes he can help us, and I think it makes a lot of sense. And it's a position where we need to get better."
Considering that the Jaguars arguably have the worst collection of tight ends in the NFL, it's absolutely a position of need with a rookie quarterback taking the reins. But out of every free agent and draft-eligible player available, you're really gonna try to tell me that Tim fucking Tebow, a guy who's 33 years old and has been targeted as a receiver exactly once in his entire life, is the best option available?!
Really?!?!!???!!!
Apparently so, because after working out for the team, Tebow has officially been offered a contract to return to the NFL.
White privilege will never cease to amaze. But one aspect of this move that's important to note is that one of the biggest reasons teams were averse to bringing in Tebow in a past life, aside from the fact that he was a shitty quarterback, was because of the media circus that comes with him. He's a polarizing figure and whether you love him or hate him, he's absolutely going to create a spectacle that could become a distraction. So teams wanted no parts of that.

"He seems like a great guy to have on a team, and I'd be tempted to bring him in as our backup," an anonymous NFC head coach said in 2013. "But it's just not worth dealing with all the stuff that comes with it."

"You don't want to put up with the circus," another AFC head coach added.
Now I really don't want to bang this drum, but is this not the same thing they say about Colin Kaepernick when they use every excuse imaginable to justify him being blackballed from the NFL? These are obviously two entirely different situations, but the primary differences are 1) Kap actually belongs in the NFL 2) Coaches talked the talk, but unlike Tebow, not a single one brought Kap in for a tryout last summer and 3) Kap doesn't have some morally corrupt white guy to vouch for him.
But this ain't about Kap, this is about Tim Tebow. More specifically, this is about how white privilege has yet again denied a far more deserving individual the opportunity of a lifetime. Because again, playing in the NFL is a privilege, but so is being offered opportunities you don't deserve solely because of the color of your skin.
And in this America, it will always be Tebow time.