Note: It might not ever be funny to joke about a lethal virus responsible for the deaths of thousands of people.
Florida's Jacksonville Jaguars are learning this lesson after their mascot, Jaxson de Ville, came under fire for carrying around a Pittsburgh Steelers Terrible Towel along with a sign declaring, "Towels Carry Ebola," during a Sunday game, according to the New York Post.
Thousands of people in West Africa are currently grappling with the disease, which has already left about 3,400 dead. The first case of the virus in the United States recently occurred when Thomas Duncan traveled from Liberia, one of the hardest-hit places, to Dallas.
On Monday the Jaguars officially apologized for the stunt. "Improvisation and humor have both been key elements to the character of Jaxson de Ville, especially when he performs at home games," Jaguars President Mark Lamping said. "On Sunday the person who has played Jaxson de Ville over the past 20 seasons made an extremely poor decision in that regard.
"The team was unaware of this inappropriate sign, which was handmade by Jaxson during the fourth quarter of yesterday's game, until after it had been displayed. We are handling the matter internally and taking it very seriously. We extend our sincerest apologies to anyone who was offended," Lamping added.
G/O Media may get a commission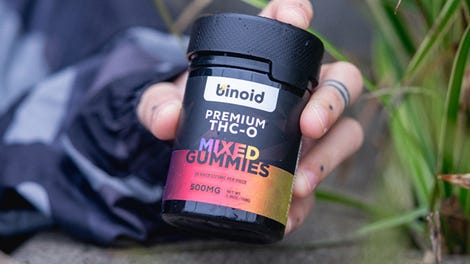 25% Off + Free Shipping
Binoid THC-O Gummies
Read more at the New York Post.