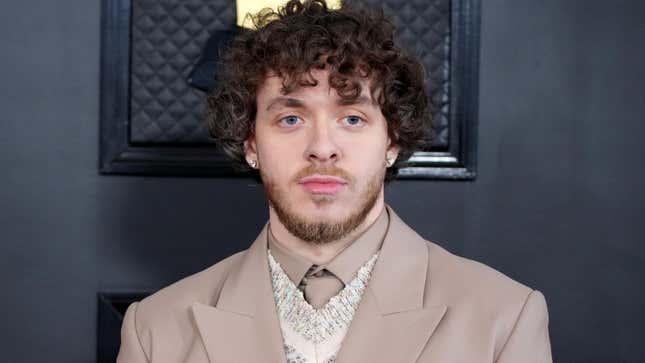 Even though Jack Harlow will never have bars, the one thing he will always have is the audacity. On his third LP, Jackman (which was released Friday), he does his best to conjure up semblances of authenticity and realness. However, it sounds like Harlow is trying to justify his place in the rap world. And sadly, the person he's trying to convince the most is himself.
On the track "They Don't Love It," he says: "The hardest white boy since the one who rapped about vomit and sweaters/And hold the comments 'cause I promise you I'm honestly better/Than whoever came to your head right then/They ain't cut from the same thread like him/They don't study, doin' work to get ahead like him."
The truth is, Eminem could effortlessly outrap Harlow on his worst day. Unfortunately, his desperate attempt to appear self-aware didn't end there. On "Common Ground," Harlow recites:
"The suburbs are filled with ebonics and trap sonics/Frat boys sayin', 'No cap, put racks on it'/The dialect got a lil' splash of some black on it/Cap and gowns bought by the money in dad's pockets/White girls squattin' tryna get that ass poppin'/Caught back-talkin' to their mom and dads often/Recitin' rap lyrics 'bout murder and cash profit/Get to feel like a thug but don't have to act on it."
Harlow thinks he deserves credit for calling out cultural appropriation and how white folks often engage with hip hop disingenuously. In other words, they try it on for size because they can always go back to the safety of whiteness whenever they feel like it. The irony is, Harlow is actually describing his own reality. Hopefully, people will stop buying into his act.