For the past several years, Popeyes Louisiana Kitchen drive-thru window with sentience Charley Barkley has been pretty vocal and consistent with his criticism of Lebron James, questioning everything from his competitive spirit, his heart, his decision-making, and his friends. Admittedly, he usually prefaces this criticism with an acknowledgement of James's talent and an articulation of his fandom, but this isn't much different than calling someone ugly but then complimenting their haircut. Also, considering Barkley's numerous misdeeds — both on the court and off of it — this isn't even the pot calling the kettle black. This is a beat-ass, sad-ass, irrelevant sheet of scrap metal angry it aint a pot anymore.
Lebron usually takes this criticism in stride. But something about Barkley's recent criticism of Lebron's back-and-forth with the Cavs' front office made Lebron halt his stride, turnaround, and move some heavy furniture in Barkley's direction.
And I've been trying all morning to find any lies here — trying really, really, really hard actually; I even rented a microscope from, um, the microscope rental store — and I can't. Maybe you can. Let's see!
After years of being fodder for Charles Barkley to comment on in his role as an analyst on TNT's "Inside the NBA," LeBron James has heard enough.
"He's a hater," James told ESPN of Barkley following the Cleveland Cavaliers' 104-97 loss to the Dallas Mavericks on Monday. "What makes what he says credible? Because he's on TV?"
G/O Media may get a commission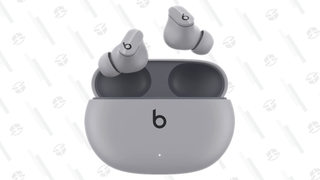 No lies there.

"I'm not going to let him disrespect my legacy like that," James told ESPN. "I'm not the one who threw somebody through a window. I never spit on a kid. I never had unpaid debt in Las Vegas. I never said, 'I'm not a role model.' I never showed up to All-Star Weekend on Sunday because I was in Vegas all weekend partying."
Nada untruths.

"All I've done for my entire career is represent the NBA the right way. Fourteen years, never got in trouble. Respected the game. Print that."
Nil fabrications.

James, whose friendships with Dwyane Wade, Chris Paul and Carmelo Anthony have also been called into question, recalled watching a 1993 NBA Finals game between Jordan's Chicago Bulls and Barkley's Phoenix Suns and being surprised what he saw on his screen.

"Go watch the '93 Finals when John Paxson hit the shot," James said. "Barkley and Jordan were laughing and joking with each other during one of the games while somebody's shooting a free throw. In the Finals. But, oh, nobody were friends back then."
Zip fictions.

He had more words for Barkley too.

"I know he wanted to retire a long time ago, but he can't," James said. "He's stuck up on that stage every week."

James then issued a challenge, of sorts.

"And if this makes him want to talk to me, the schedule's out there," James said. "He knows every road arena I'll be in. Don't just come up to me at All-Star and shake my hand and smile."
Zilch whoppers.
Of course, I know that there are people who carry such a distaste for Lebron that they'll be able to find some lies here. He could win the next five championships, cure gout, open a university with the sole purpose of teaching White people how to properly season chicken, and find a way to impeach Trump, and (some) people will still be like "but…but…but…but DeShawn Stevenson!" And I guess that comes with the territory. (And, admittedly, there is quite a bit you can criticize and roast about Lebron.)
But if you're not possessed by Lebron-centered animus, you'll see that this is just a very public distillation of an old dude criticizing a young dude despite the fact that the old dude did waaaaaaaaaaaay worse shit when young (and old). It's basically the sports version of the Thanksgiving Clapback. You also have to appreciate the lielessness here. This was a lieless silo. An lie-void event horizon. Lies will tell campfire stories about this for centuries, scaring their little Lie babies with tales about the Lie-Deficient Jabberwocky roaming Northeastern Ohio.