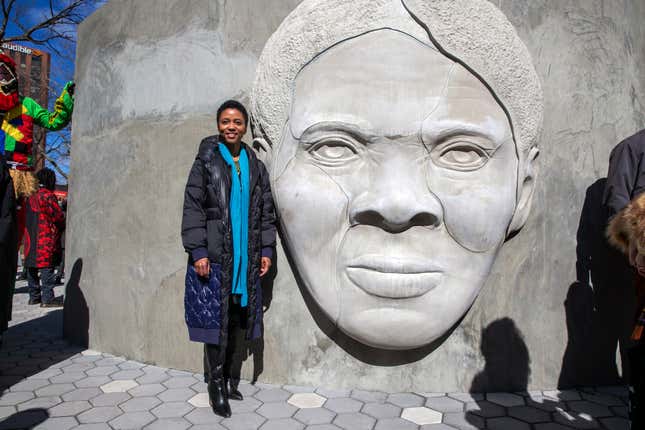 A new Harriet Tubman monument, which was recently revealed in Newark, New Jersey, has officially replaced a Christopher Columbus statue that remained there until the summer of 2020. The monument, titled "Shadow of a Face," is 25 feet tall and contains steel that expands into a trellis that onlookers can walk under.
FX on Hulu's Tupac Docuseries, Dear Mama, Is Our TV Pick This Week
The memorial also shows timelines of Tubman's life. In addition, it details the role Newark played in abolition featuring audio narration from Newark native Queen Latifah. "Shadow of a Face" drew its title from Robert Hayden's poem "Runagate Runagate," which explains how slaves sought freedom through the Underground Railroad.
The architect behind the display, Nina Cooke John, said the work is meant to galvanize audiences. "I really want them to feel like they feel seen," she said. "That they see themselves in this monument. That they feel represented. That they feel connected. That they feel like they belong in this space." Cooke John resides in Montclair, New Jersey.
She applied to an open call for artists who were interested in working on the site back in December 2020. The city's Division of Arts and Cultural Affairs selected Cooke John's design in June 2021. "Shadow of a Face" replaces the Christopher Columbus statue, which was taken down in 2020 following national racial justice protests.
As a result of the outcry, more than 130 Confederate and other historic statues taken down across dozens of states. Newark residents were able to buy bricks placed on the monument's wall, which displayed their stories and how the history of the city is applicable to them.
Tubman's story is a vital one to American history and should always be uplifted.