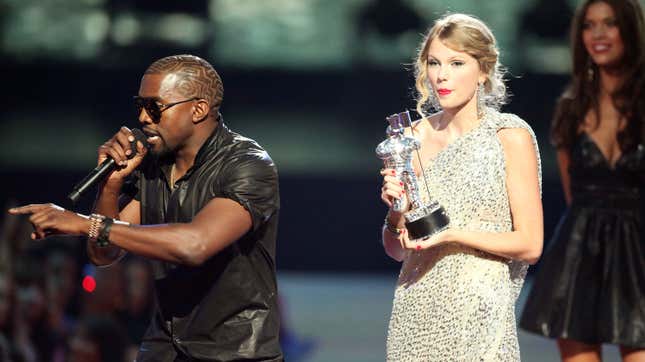 The day was Sept. 13, 2009. Heaps of celebrities gathered at Radio City Music Hall in New York City to honor each other with shiny moon men at the MTV Video Music Awards (VMAs). The "Best Female Video" award was up and Taylor Swift's name was announced for her "You Belong With Me" video. However, Kanye West wasn't feelin' that decision; he actually preferred Beyoncé's pop culture-changing video "Single Ladies (Put A Ring On It)" and believed she deserved that trophy instead.
Fighting "Lie-abetes": How To Spot And Combat Disinformation and Conspiracies In Politics | The 411: Part 2
You'd think a standard shady reaction shot would've done the trick, but this is Kanye we're talking about here. Nah, homie walked right up onto the stage as Swift was giving her speech to air his grievances. It was then that Kanye uttered what would become one of the universe's most referenced lines of all time, "Yo, Taylor, I'm really happy for you, and I'mma let you finish, but Beyoncé had one of the best videos of all time! One of the best videos of all time!"

For what it's worth, he did hand the mic back to Swift and "let [her] finish," even though she was way too shellshocked to do that. However, the mainstream media torch mob against the outspoken rapper had begun.

So, here's where I say two seemingly contrasting things can co-exist: The (mainstream) narrative surrounding that whole debacle was entrenched in white privilege, for sure. Especially when it concerns America's lily-white sweetheart.
At the same damn time, Kanye was unhinged as fuck. So much so, that even the person he was defending, Beyoncé, made the "omg pls no" face.

Today, in 2019, that incident is 10 years behind us. Can you believe it?!? To "celebrate" the anniversary, several reporters, producers, and MTV staffers spilled the tea to Billboard about that infamous night. To sum it up: the pre-show consisted of a Hennessy-wielding Kanye; the producers naturally assumed their big Michael Jackson tribute would be the star of the show (the King of Pop had tragically died that year); and they desperately attempted to clean-up the Kanye mess afterward—but, here are some of the stand-out quotes, via Billboard:

Kanye apparently gave a preview of what was to come, via his unstable demeanor on the red carpet.
Whitney-Gayle Benta (former vice president of talent relations, MTV News): My story starts on the red carpet, where I saw him [Kanye] with that bottle of Hennessey, which surprised me. I remember being like, "Are you okay?" Because I knew him very well and it seemed very out of character for him to be on the carpet like that. The VMAs are very different from the Grammys, but I'd never seen him in any way with a bottle of liquor, and I think he'd been well-trained by his publicist that he was going to be photographed. I definitely said something to him. I was like, "What's up with you?" And he was like, "I'm here living my best life."
Kanye wasn't even supposed to be seated in the front, initially.
Jim Cantiello (former correspondent/producer, MTV News): Days before I did a "seat card" segment from Radio City, where I showed off where the celebs would be sitting on the big night. And Kanye's seat card was several rows back, like in the eighth row. I cracked a joke like, "Jeeeez, who decided to put Kanye alllllll the way back here? Who did he piss off at MTV? He's not gonna be happy about this. Somebody's gonna get fired." And then the morning of the VMAs, the producers realized that they didn't have enough men towards the front of the theater for cutaways. So at the eleventh hour, they moved Kanye up towards the front.
The production truck felt an array of emotions, from panic to excitement, and the crew warred over whether or not to cut off Kanye's mic.
Hamish Hamilton (director, 2009 VMAs): There was an awful lot of strange energy in the truck, like, "Oh my God, get him off! Get him off! What is he doing?" A number of people were really nervous and wanted to get him off the stage, but how do you do that? I wasn't going to send a bunch of people to rugby-tackle him. I turned around in my chair and I said, "Guys, this is TV gold!"
After it happened and they picked up their jaws from the floor, it was damage control time.
Van Toffler (former president, Viacom Media Networks Music & Logo Group): Once it happened, we went to commercial break and I said to [then MTV executive] Dave Sirulnick, "Dave, you need to go get Kanye out of the building and I need to go see Taylor, her mom and manager, because she was set to perform one or two acts later."
Kanye wasn't cool with the damage control, though. Of course. 
James Montgomery (former senior correspondent/on-air talent, MTV News ): [Kanye] was kind of hunched over, and you could tell he could feel the weight of everyone's stares. Within the next 5-10 minutes, he was ushered out of his seat and I followed behind him—and out in the darkened hallways of Radio City, I saw him going up and having a very long, heated conversation with Dave Sirulnick about what happened. Dave saw me trailing behind and told me I wasn't allowed to go up there. I waited at the foot of the stairs and watched them have a very animated conversation. Kanye was very upset about this, and he was kind of shocked that he was being asked to leave. I just remember it being a very chaotic moment where everyone was [going], "Is this really happening?" and everyone being very angry.
The moment was actually the first time one MTV staffer truly realized the impact Twitter could have on awards shows.
Cantiello: Kanye storming the stage was the first time I realized just how powerful Twitter was in driving audiences to TV. If you opened up your timeline that night, your feed was overrun with reactions. If you weren't watching the VMAs and you opened Twitter, it felt like you were missing out on the craziest TV moment of all time. It's also noteworthy to remember that back in 2009, there were no algorithms dictating your feed. Your Twitter timeline was in chronological order. It was ideal for "live blogging" TV. So when a "moment" happened, everrrrrrryyyyyone talked about it and you couldn't ignore it. Fans took sides immediately.
Looking back, no one could've fucking clocked the sheer possibility of this moment's impact. Everyone, from the audience to the producers, was equally shocked and appalled by the moment itself and its aftershocks.

"It seemed like such a weird, small unplanned moment that became this gigantic thing," Montgomery concluded. "It was unquestionably unplanned...It kind of changed the way that they [MTV] were encouraging more of those moments going forward, by putting random people together and trying to see what happens."

After the media kerfuffle, Kanye apologized a bunch of times and the two squashed the whole thing with a hug a few years later. But then, he threw shade once again in his song "Famous" and Taylor claimed she didn't know he was doing the song despite his claims they had a phone conversation about it. And the Circle of Strife began once again. Frankly, I have no idea where the snake and teddy bear stand today because that red MAGA hat is blocking my view.

Anyway, y'all got some snacks to go with this tea?