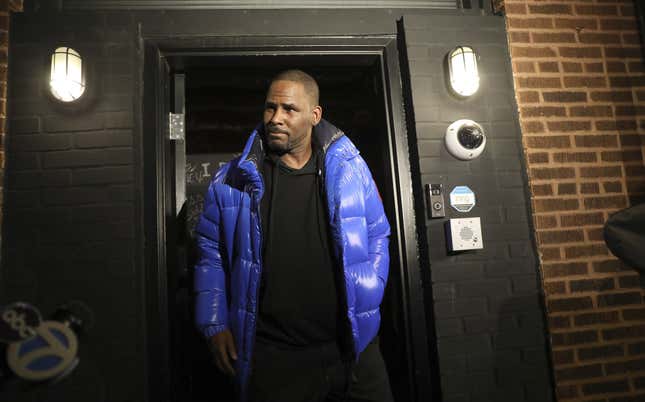 It's the remix to conviction—again—for disgraced R&B singer R. Kelly. On Thursday, a federal judge sentenced Kelly to 20 years in prison for his sex crimes to end his Chicago trial.
Per the New York Times, a jury convicted the "Ignition" singer on six of the 13 charges "in connection with sexual abuse during the 1990s, including three counts of coercing minors into sexual activity and three of producing sex tapes involving a minor." As a result, Kelly will now serve a 20 year sentence—but not in the way you might think.
In an interesting move, the judge decided that those 20 years could be served congruently, meaning that sentence can start at the same time as his 30 year sentence—the latter of which he received after being convicted on charges of racketeering and sex trafficking during his New York trial in 2021. So essentially, Kelly will only be in jail for an additional year as it specifically relates to the Chicago trial. Which is...a choice, to say the least.
As previously reported by The Root, federal prosecutors were initially requesting that Kelly get 25 years citing the fact that he's a danger to society.
"The only way to ensure Kelly does not re-offend is to impose a sentence that will keep him in prison for the rest of his life," government filing from prosecutors read.
Kelly's attorney, Jennifer Bonjean, however, asked that her client only receive a 10 year sentence and argued that her client was singled out for behavior that white celebrities and rock stars had gotten away with for years.
Ultimately, with the judge's ruling on Thursday—it looks like Kelly's team got the win they were looking for. But I'd be lying if I said it sends the right message to his survivors.