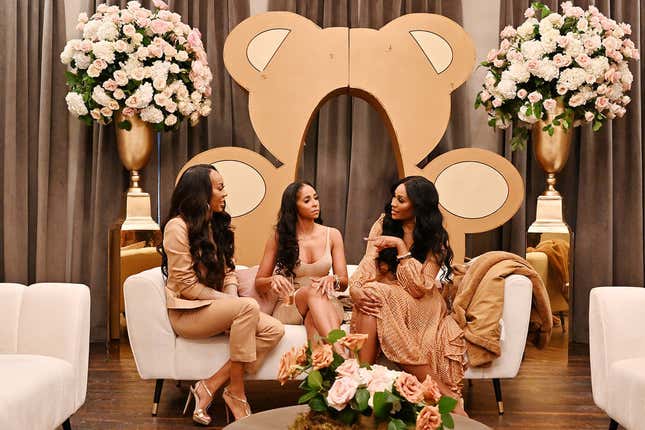 Casting shakeups on your favorite TV series aren't a new concept. Viewers can lose interest if things stay too repetitive and familiar. Why do you think Law & Order and Grey's Anatomy keep bringing in new characters every few seasons? In reality TV, they're pretty much mandatory. Bravo recognized that one of its longest running franchises was getting stagnant and debuted a completely new cast this season on The Real Housewives of New York. The new cast and stories were well received, which means the resets won't stop there.

Shereé Whitfield Squashes Real Housewives of Atlanta Rumors & More
According to Entertainment Tonight, amid fans' displeasure with the most recent season, Bravo is reportedly looking to make "a major shakeup" to The Real Housewives of Atlanta.
"Before the women filmed their recent reunion, they were told that they should expect a big change with the franchise moving forward," a source told the outlet. "They hinted at a reboot like New York got, but it also could be moving forward with only a couple of the current stars."
Let's be honest, RHOA hasn't been the same without NeNe Leakes. She was a huge key to its success and the show has been scrambling for three seasons to fill the void she left behind. Since she had storylines and interactions with the other Housewives, her shadow still looms large. At this point, a complete reboot seems like the only way to save the show.
If Real Housewives of Atlanta brings in new women to follow, perhaps the show should take the franchise in a different direction from its usual heightened drama and focus on a younger generation whose lives aren't centered around superficial subjects. Imagine if the Atlanta Housewives were activists, lawyers, doctors, academics and artists? Women from all walks of life who are trying to make significant change in the world. Not only would that be a big jump for the series, it would introduce the franchise to new audiences. You can still have the table flipping drama in other cities, but let Atlanta be about Black women changing the world.
Keep in mind, these are all just rumors circulating around the internet and Bravo hasn't actually confirmed anything. But it's also possible that these stories came from someone inside the franchise, so the network and producers could gauge fan reaction to the idea of a new cast.
If Atlanta is indeed rebooted, it feels like NeNe will be getting the last laugh on everyone.