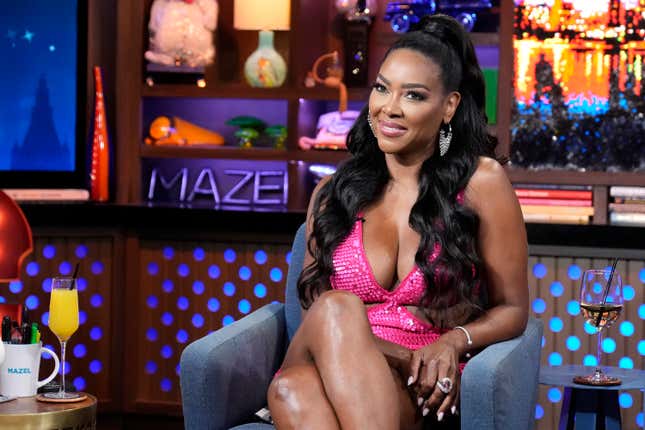 In July 2023, Nene Leakes went on former Housewives producer Carlos King's podcast to talk about her rocky history between herself and Andy Cohen, Bravo, and NBC.

Shereé Whitfield Squashes Real Housewives of Atlanta Rumors & More
One of the biggest revelations in the two-part interview was Nene believing that the network decided to slowly remove her from the show by cutting her scenes, offering her shorter filming contracts, and offering to pay her less than she felt she was worth.
Well, history is repeating itself as Kenya Moore, who has been on the show since 2012, is experiencing an oddly similar edit on The Real Housewives of Atlanta season 15. The former Miss USA was looking forward to having her newest venture, the Kenya Moore Hair Spa, featured on the show. Allegedly, the cast as well as a few friends of the show were present at the opening of the salon and even filmed at the event. However, producers did not air more than a clip of the salon from its construction to its final form, and Moore is not happy.
She took to X (formerly known as Twitter) to express her frustration with her business getting the highlight she was hoping for. She's offended that other housewives (especially Kandi Burruss) had the opportunity to have their businesses spotlighted the entire season, while she was only given a clip.
Sanya Richard Ross' MommiNation fundraiser was shown early in the season. Burruss' movie venture with her husband Todd was shown as well as her restaurants, and the launch of new sex toys for her brand Bedroom Kandi. There was even a scene filmed in Marlo Hampton's boutique, Le' Archive.
A common criticism from fans of the recent seasons of the show is that there hasn't been enough filming of the housewives' personal lives. Moore also posted on X that her child Brooklyn's birthday party wasn't filmed for season 15 even though many children on current and past housewives were present.
Yikes! With Kenya taking to social media and interviews to complain about her current position on the show, it doesn't look like she's in a spot to secure a peach for season 16 of the show, but maybe she's no longer interested in having one anyway. If there's one thing we know about Kenya, it's that she doesn't like being pushed out of the spotlight!