Progressive Democratic candidate Randall Woodfin, 36, became the youngest mayor-elect of Birmingham, Ala., in modern history Monday night after defeating two-term incumbent Mayor William Bell with a near 20-point margin of victory. He follows in the footsteps of Jackson, Miss., Mayor Chokwe Antar Lumumba, another Southern progressive supported by national liberal organizations who won city hall this year.

Woodfin's win is a strategic victory for the progressive movement in that it challenges conservatives locally on their home turf, where state laws such as voter-ID and anti-LGBTQ legislation often have federal election implications.
Our Revolution, a national organization devoted to supporting progressive candidates at the local level, backed Woodfin's race by sending over 11,000 "Get Out the Vote" text messages and making hundreds of calls. Former Ohio state senator and Our Revolution President Nina Turner campaigned for Woodfin in Alabama twice. Sen. Bernie Sanders (I-Vt.) also endorsed his candidacy.
When called last night moments after Bell conceded, Woodfin was unaware of his wide margin of victory.
"I don't even know the margin I won by, brotha. I haven't had a chance to look at the numbers," he said.
G/O Media may get a commission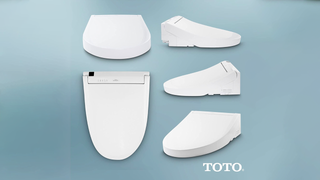 44% off
Toto Washlet Electronic Bidet Toilet Seat
Woodfin received 58 percent of the votes counted—24,910 votes in total—over Bell's 41 percent, or 17,353 total votes, according to AL.com.
Supporters took to Twitter to congratulate the new mayor:
Woodfin got a lot of campaign help from Morehouse College alumni, who held fundraisers around the country and came from out of town to knock on doors as volunteers. On the scene when the race was called for Woodfin last night was Morehouse's interim president, Harold Martin Jr. When they were classmates at Morehouse, Martin said, Woodfin made it clear that he was going back to Birmingham to serve his city. His youth, Martin believes, will be to his advantage.

"He is a young mayor," said Martin, who graduated from Morehouse just two years ahead of Woodfin. "But what we're experiencing in our country and we're seeing in the city of Birmingham is that young leaders have great ideas, the energy to see them through, and are innovative in their thinking, and Randall is a prime example of that."
Considered a long-shot candidate when he jumped into the mayoral race a year ago, Woodfin shocked Birmingham's political elites when he came in first over Bell in the city's nonpartisan primary in August. Billing himself as a fresh alternative to Bell, Woodfin vowed to take on the city's rising crime rates and create ways for young people to pursue a free education at local community colleges. His campaign succeeded in casting Bell's administration as being too entrenched in the old politics of Birmingham to come up with new ideas on how to move the city forward. (Indeed, Bell has been in city government for as long as Woodfin has been alive.)
Woodfin said that his first agenda items will deal with job creation and tackling poverty. Just as important is the issue of safety. He gained the support of the local police union after promising to hire more cops, but Bell said that his safety plan will include players other than those from law enforcement.
"It's empowering people where they live," he said. "It's taking a 21st-century look at how Neighborhood Watch looks. It's introducing conflict resolution to our boys and girls entering middle school. It's finding a way to get our young people to understand what empathy means in childhood before they're adults. It also means tackling poverty head-on and asking young boys to put guns down and stand ready to replace it with a job in their hands."
One of Woodfin's goals is to raise the city's minimum wage to $15 an hour. Right now it is $7.25. Birmingham's City Council tried to raise it to $10.10, but the state rejected it.
Woodfin takes office Nov. 28, so he doesn't have a lot of time to celebrate his win. He said that he will take a long nap today and respond to a few emails and texts. After that, he's heading straight to City Hall to begin his plans for Birmingham.
"I need to have a conversation with the City Council," he said. "It's time to get to work, brotha."