The wheels of justice turn ever so slowly when you are a black man caught up in a system designed to hold you down. It's even worse when those who work within that system intentionally do their best to keep you there. Such is the story of Corey Williams of Shreveport, La.
Williams is impaired from severe lead poisoning and intellectually disabled. According to the Equal Justice Initiative, he was known as a "chump" who would unwittingly take the blame for things he had not done. Three weeks after his 16th birthday in 1998, he was arrested for the robbery and murder of a pizza delivery man.
Although the police were well aware of his intellectual disability, they ignored that and questioned him all night until he confessed to the murder. He then told them: "I'm tired. I'm ready to go home and lay down."
His case was further complicated by the dishonesty of then-Caddo Parish District Attorney Hugo Holland. Holland and his successor, Dale Cox, are responsible for 75 percent of all the death sentences imposed in Louisiana between 2010 and 2015, according to the Equal Justice Initiative.
Although there was no physical evidence to link Williams to the crime, Holland aggressively sought the death penalty in his case. This was despite the fact that all evidence pointed to three men who were actually seen robbing the victim after he was shot.
G/O Media may get a commission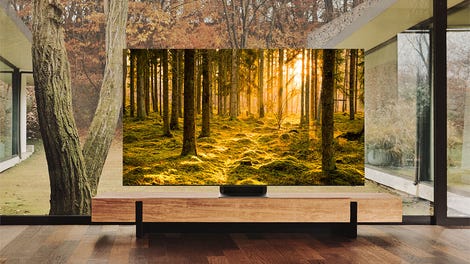 Up to 40% off
Samsung Smart TVs
Money from the victim and pizzas were found in a dumpster near where the three men lived. Fingerprints of one of the men were found on the murder weapon, and the blood of the victim was found on the clothing of one of the others. All three pinned the crime on Williams.
Police presented evidence that showed they believed the three men conspired to frame Williams for the crime, and witnesses admitted to falsely implicating him because they were threatened by the three men.
None of this mattered. The evidence was suppressed, and Williams was convicted and sentenced to death. He was only removed from death row after the U.S. Supreme Court ruled in 2002 that people with intellectual disabilities cannot be sentenced to death because there is a risk that they may confess to a crime they did not commit.
You know, like Williams did.
Even though Williams was taken off death row, the courts upheld his conviction and refused to even consider that his intellectual disability as well as his age could have played a part in his faulty confession.
Oh, and that prosecutor in the case, Hugo Holland? He was later investigated for withholding evidence and was eventually forced to resign.
That has not stopped him from being what the Washington Post described as "the most powerful law enforcement official in Louisiana."
Even after his forced resignation, parishes throughout Louisiana continued to hire him as a part-time prosecutor, with some DAs allowing him to handle their most serious cases—including death penalty cases.
The tide changed for Williams in March 2018, when his attorneys filed a petition asking the Supreme Court to overturn his conviction because of prosecutorial misconduct. That petition was supported by a brief signed by 44 former prosecutors and Justice Department officials.
James Stewart, the current Caddo Parish district attorney, agreed to immediately release Williams in exchange for a guilty plea to lesser offenses.
Read that last sentence again. Even though authorities know he didn't do it, in order to secure his freedom, Williams still had to accept blame for a crime he didn't commit—albeit a lesser one.
At now 36 years old, Williams pleaded guilty to manslaughter and obstruction of justice. He walked out of Louisiana's Angola Prison last week a free man.
Amir Ali, one of the attorneys representing Williams, told the Washington Post that the case was "so clearly a tragedy," it was worth accepting the guilty plea deals in order to secure his freedom.
When Williams left the prison last Tuesday, he had spent more of his life in jail than out of it.
Tragic.