Born of the Earth are Nature's children
Fed by the wind, the breath of life
Judged by the fiery hands of God
—Earth, Wind & Fire from the 1976 song "Spirit"
The white album that I grew up with did not belong to the Beatles. As a child in the 1970s, fiddling around in the album collection left behind by my older brother and sister when they finally moved out, I saw it. When I opened up this album cover, I was surrounded by pictures of these sweaty black men in crazy outfits grooving their hearts out. Boy, did they look weird to my young eyes!
That white album was Gratitude. And that group of crazy-looking brothers took the elements of the universe and bent them to their musical will.
This is how it started, according to the street where anecdote meets myth. Maurice White saw in his astrological chart the Memphis dirt of his childhood, the wind around his musical career as a young Chicago drummer, and the fire generated by new funk groups such as Sly and the Family Stone, and had an idea (get it—Earth, Wind & Fire). He would form a band for the new, bold generation staring into 1970; the young people who were in college and looking for a new sound. White grabbed his brother Verdine and pushed him into the new venture. Others soon followed, including a young falsetto singer named Philip Bailey.
G/O Media may get a commission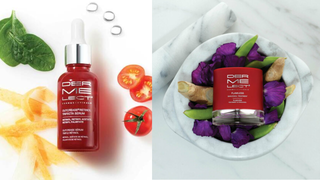 Save $19
Retinol Renewal Kit
The new group found itself, thanks to a movie soundtrack: Sweet Sweetback's Baadasssss Song. And Warner Bros. Records signed up this next big thing. But Warner Bros. didn't know what to do with these black hippies. Fortunately, Clive Davis, then of CBS, did.
White, a student of ancient Egypt as a black nation, wanted to prove to the world that blacks alone could be a major American musical power group—a supergroup. Davis understood and got out of the way. A master of craft, Charles Stepney, stepped in to create order and discipline.
Suddenly pyramids broke open, and powerful horns blew. Studios. Recordings. In stadiums, Verdine and his bass, along with Fred White's drum set, started rotating in the air, thanks to illusionist Doug Henning. As the 1970s wore on, the EWF platinum explosion became an annual event. Suddenly Marvin Gaye, Quincy Jones, Stevie Wonder and the Jacksons had to make room for these guys, who, after meditating in a circle for an hour, went onstage and just produced wave after wave of orchestrated, bass-driven, Latin-tinged slick funk. EWF produced a ballad called "Reasons" during their heyday that will bring any lingering personal memories into the forefront to this day.
White expanded his empire, taking on producer responsibilities for groups like the Emotions, but it might have happened too fast. All the growth created artistic and other tensions within the group. It was all too much. Then disco threatened to swallow all that had been built, so he adjusted with his own groovy interpretation in "Boogie Wonderland" and "Let's Groove." But it was time to take a break, to allow for solo space.
White brought the group back in 1987 after a four-year hiatus. More albums followed, but now only sporadically did the sound reconnect. Slowly deteriorating from Parkinson's disease in the 1990s, White retreated to the studio and Bailey took the lead onstage. But the vocal stamp that White had practically copyrighted remained strong into the 21st century.
In 2016, EWF struggled against becoming its own cover band. The group successfully promoted its own nostalgia while still trying to create an age-appropriate sound for graying baby boomers.
I once heard Arsenio Hall refer to Earth, Wind & Fire as "the black Beatles." Not good enough: White's creation was born from the faded echoes of Duke Ellington's sped-up dreams. It was brothers smoking doobies with Imhotep in the land of the pharaohs, their black power Afro picks squarely standing up straight in a field of formerly nappy hair. It was the race in meditation, enjoying new freedom, having new opportunities, seeing an optimistic future with its third eye.
Just listen. In a new decade of desegregated uncertainty, Maurice White took in all the visions that black people had. He spiritually reached back to pick up that kalimba—that African thumb piano that you hear in the beginning and/or in the middle of one of their jams, the instrument that sounds like a xylophone. Then, mirroring his people in the tumult of the 1970s, he moved forward from his drum set in the rear stage to now sing in front. Now, as our new ancestor, he joins the celestial meditation circle that he started.
Todd Steven Burroughs, an independent researcher and writer based in Newark, N.J., is the author of Son-Shine on Cracked Sidewalks, an audiobook on Amiri Baraka and Ras Baraka through the eyes of the 2014 Newark mayoral campaign. He is the co-editor, along with Jared Ball, of A Lie of Reinvention: Correcting Manning Marable's Malcolm X and the co-author, with Herb Boyd, of Civil Rights: Yesterday & Today.