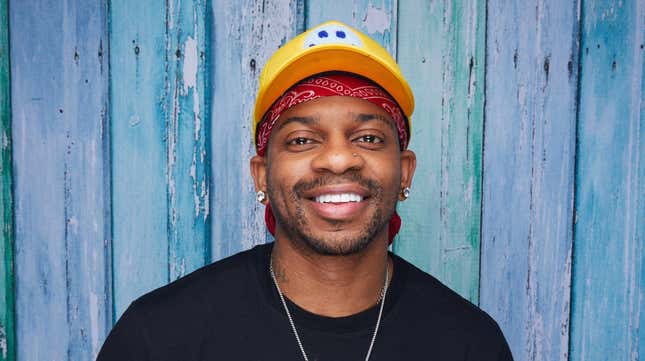 Trigger Warning: This article contains descriptions of sexual assault.
Country music star Jimmie Allen is back in the headlines again—not for his music, but unfortunately for another new sexual abuse lawsuit.
Easy Beauty Hack Doubles As Primer While Protecting Your Skin
According to Variety, an unnamed woman—who's going by Jane Doe 2 per court documents—is suing Allen for battery, sexual assault, invasion of privacy and emotional distress. She's also suing Allen's bodyguard and the company that employed him. She alleges that she met the singer randomly on a plane ride in May 2022, though she didn't know who he was. After a couple months of long-distance communication, they eventually decided to meet up in Las Vegas and that's when things took a disturbing turn.
Variety with more:
Once they arrived at Allen's hotel, Jane Doe felt "comfortable and safe" because she was told arrangements were being made for her own separate room and that Allen's bodyguard would be staying in the room next door, per the suit. Jane Doe "willingly joined Allen in the bedroom" at the hotel, the suit says, "However, at no time did Allen disclose that he intended to or was video recording their sexual encounter, nor did he ask Plaintiff if she consented to him video recording their sexual encounter."

Jane Doe consented to having sex with Allen, but set ground rules, relating to her not being on birth control, the lawsuit explains. "He told her he would respect her request," the suit states, "Yet, as their encounter progressed, Allen penetrated Plaintiff during sex with his penis and without a condom. Allen told Plaintiff he wanted to get her pregnant. Plaintiff said no….He refused." The lawsuit claims that Jane Doe repeatedly asked Allen to stop and verbally revoked consent during their sexual interaction, but he still continued. After, the suit says Allen immediately passed out and Jane Doe was not able to wake him up.
After being allegedly assaulted and grabbing her things to go, Doe saw a cell phone propped up in a nearby closet and saw that their entire exchange—including the alleged assault—had been video recorded without her consent. She subsequently took the phone with her, confided in a friend and got a room at a different hotel, flew home, and gave the phone to her local police department which then reported the incident to the Las Vegas Metropolitan Police since that was where the alleged crime took place. Jane Doe 2 is currently being represented by Elizabeth Fegan, the attorney who's also representing Allen's former manager in the first sexual abuse and rape lawsuit filed last month.
As previously reported by The Root, the unnamed woman (Jane Doe 1) alleged that Allen repeatedly sexually abused him for 18 months after she began working for him in April 2020. She's suing him for "sexual battery, assault, false imprisonment, sex trafficking and emotional distress." She's also suing Allen's management company, Wide Open Music, and its founder, Ash Bowers —the latter of whom she claimed let her go from her position not too long after she came forward with her allegations against Allen to him—for "gross negligence and participating in a venture engaged in sex trafficking, among other counts."
Allen has since denied any wrongdoing in Jane Doe 1's suit in a lengthy statement and publicly apologized to his wife and family for being "a poor example of a man and a father." These shocking and disturbing developments come nearly two months since Allen announced his split from his wife Alexis Gale, who is currently pregnant with their third child.