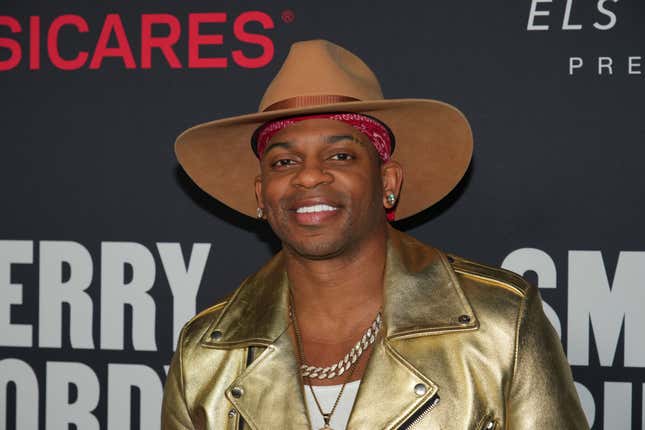 Trigger Warning: This article contains descriptions of sexual assault and rape.
Popular country music singer Jimmie Allen is facing new allegations of rape, sexual assault and harassment stemming from his former manager who claims she'd been repeatedly sexually abused by him for 18 months.
Easy Beauty Hack Doubles As Primer While Protecting Your Skin
According to a lengthy and detailed report from Variety, the woman—who's identified only as Jane Doe per the official lawsuit—detailed several instanced where she was assaulted by Allen. One instance allegedly happened 24 hours before the "Best Shot" singer was scheduled to appear on the Ellen DeGeneres in May of 2021, where Doe claimed that he "groped her breasts on the plane, pushed his erect penis against her body in public and masturbated in front of her at the hotel where they were both staying." On the car ride after the appeared, Allen assaulted her again by "forcing his fingers into her vagina" as she tried to push his hand away.
In March 2021, Doe alleged that Allen raped her in her hotel room after a business dinner and that she woke up with no recollection of the night before, but was bleeding vaginally and in severe pain. She said she was encouraged by Allen to immediately take a Plan B pill. The lengthy report also details several other instances of alleged sexual abuse, rape, emotional distress, and sexual harassment at the hands of Allen that took place over the course of nearly two years. Jane Doe began working for the singer back in April 2020. She is suing Allen for "sexual battery, assault, false imprisonment, sex trafficking and emotional distress." She's also suing Allen's management company Wide Open Music and its founder Ash Bowers —the latter of whom she claimed let her go from her position not too long after she came forward with her allegations against Allen to him—for "gross negligence and participating in a venture engaged in sex trafficking, among other counts."
"I have to tell this story because there's no way I would let my daughter near a situation like this. My life has been turned inside out because of Jimmie Allen," Doe said in her interview with Variety. Per court documents, Doe's attorney Elizabeth Fegan added:
"Wide Open Music knew that Jimmie Allen regularly engaged in sexual harassment but required Plaintiff to work with him anyway. Wide Open Music knew that Allen was dangerous, and assigned Plaintiff to be his Day-to-Day Manager anyway. Wide Open Music did not adequately warn or prepare Plaintiff for, or protect her from, the extreme sexual harassment, abuse, grooming, and manipulation she would endure in order to keep her job."
It should be noted that after Doe came forward with her allegations, Allen was quietly let go from the management company sometime between October and December 2022.
Allen has since responded to the accusations in a lengthy statement submitted to Variety, confirming that he and Jane Doe did engage in sexual activity, but that it was always consensual:
"It is deeply troubling and hurtful that someone I counted as one of my closest friends, colleagues and confidants would make allegations that have no truth to them whatsoever. I acknowledge that we had a sexual relationship—one that lasted for nearly two years. During that time, she never once accused me of any wrongdoing, and she spoke of our relationship and friendship as being something she wanted to continue indefinitely.

Only after things ended between us, did she hire a lawyer to reach out and ask for money, which leads me to question her motives. The simple fact is, her accusations are not only false, but also extremely damaging. I've worked incredibly hard to build my career, and I intend to mount a vigorous defense to her claims and take all other legal action necessary to protect my reputation."
This shocking and disturbing development comes nearly three weeks after Allen announced his split from his wife Alexis Gale, who is currently pregnant with their third child.
"After much thought and reflection in recent months, Lex & I have made the decision to separate," the statement read in an Instagram post. "As we navigate this life change, we can also share that we will be welcoming another child together later this year. Our number one priority is and always will be ensuring that our children are healthy, happy and loved, and we remain committed to co-parenting with love and respect for one another. In light of our growing family, we respectfully request privacy during this time."