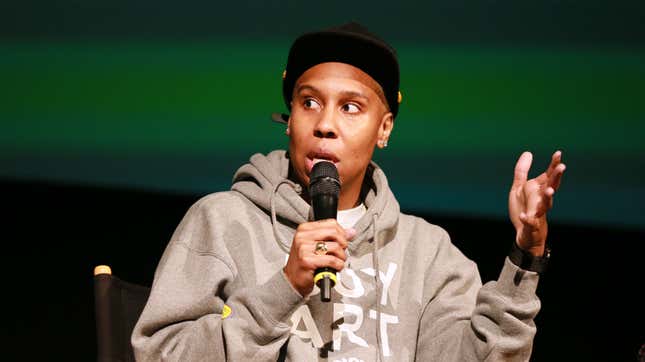 For the first time, Lena Waithe is speaking thoroughly on the allegations against actor Jason Mitchell in regard to his alleged misconduct on the set of The Chi. And it seems she wants to set the record straight on some things.
How Atlanta Produced A Cheesesteaks Empire With A Little Help From A Vegan & Rapper Eve | Securing the Bag
The screenwriter, producer and actress called into popular morning show The Breakfast Club on Thursday. In a 40-minute conversation with host Charlamagne Tha God, she addressed the allegations, her role in the matter, showrunner Ayanna Floyd's recent statement, Tiffany Boone's current status, and more.
In addition to many onlookers awaiting a public statement following the release of Mitchell's allegations, the scrutiny on Waithe dramatically increased when the Showtime drama's showrunner Ayanna Floyd released a statement claiming everyone was "well aware" of his alleged behavior for some time.
Mitchell's allegations involve misconduct directed toward his co-star, Tiffany Boone, another unnamed actress, and eventually Floyd (after she reported him).
Kicking off her Breakfast Club interview by cutting straight to the chase, Waithe addressed the number one question: If she knew about this at the end of Season 1, why didn't she do anything before?
"Season 1 of The Chi—that was shot maybe, a couple [or] three years ago?" Waithe noted. "And that was before people really knew who I was. So, I was one of those powerless women of color in this industry."
She acknowledged that, while yes, she created the show, it was her first show and she had not established the kind of power and relationship she now has with the studio and network. Using Jason Mitchell as an example, Waithe later described the dynamic between a creator and a studio/network. In response to why Mitchell was allowed to remain on set while Boone requested to leave, she explained that it is possible for a studio/network (who purchased rights to the show) to even fire her over an actor if they felt it necessary.
With regard to Floyd's comments, Waithe noted, "By the time the [first] season had wrapped, I had a little more power and clout, and was like, 'Here's what I'm going to do to change that. I'm going to hire a woman of color as the showrunner." Waithe confirmed the first season had a white male showrunner, while the second season's showrunner was a black woman, i.e. Floyd. She called her decision "a direct reaction" to the accounts of Mitchell's alleged behavior. Essentially, her goal was to make sure the "attitudes and environment" on the set were changed by putting a black woman directly in a position of power.
On its surface, that seems logical, especially when we ask for change in media, such as diversity, inclusion and true representation—that change typically has to start from the top-down. You won't see lasting progress in front of the camera unless the folks behind the camera also reflect that demographic. You have to change the gatekeepers, as well.
This particular instance becomes complicated, however, when a black woman is thusly placed in a position to be harassed herself. Which, according to Floyd, she was. Furthermore, therein lies the issue of a black woman having to be burdened with the aspect of having to "fix" a problem she certainly didn't cause.
The Twitter account for BlackGirlMasculine.com pointed out the inherent issues with this approach in a thread:
"Lena Waithe not only compromised her integrity via lack of accountability, she also was an ally to violence against Mitchell's victims," Black Girl Masculine tweeted. "Waithe's excuses are not enough, and her public presence with Mitchell showed that even if she didn't have access to get him fired, initially, she still befriended him in a way that most likely enabled his violence. Training doesn't fix sexual predators, Lena Waithe, and we love you enough to hold you accountable."
Waithe responded to the thread on Thursday afternoon.

Waithe stated that when Season 2 production began, she didn't hear of any further issues and that things had changed along with the leadership change. Eventually, she got a call from Floyd noting that Mitchell's inappropriate behavior had allegedly persisted, but Floyd implored Waithe to "sit tight" for HR to handle the issue.
Waithe went on to explain:
My biggest regret is that I wish I would've just said, 'Forget that' and not trusted anybody to do my job. I wish I would've just reached out to Tiffany on my own and just said, "Yo, what's going on? What can I do? What can Lena do to fix this?' And instead, I trusted someone else to do my job. And the truth is, can't nobody do my job like me. Because, I'm [a] very blunt person, I'm a chick from Chicago, I don't play. But, what I wanted to do is trust my showrunner at the time. And ultimately, the situation was not handled appropriately. I'm not trying to shade nobody [or] trying to throw nobody under the bus; what I want to do is own that I wish I could've handled the situation differently. And I wish I would've done more. Because, that's my issue when these things come out. People don't own their shit.
Waithe additionally admitted that while she was tempted, she consciously made a decision not to address the situation on social media when news broke, because it was "too nuanced."
Waithe noted that the biggest thing she's learned in this experience is "to be extremely hands-on." It is important to note that during The Chi's tenure, Waithe's general star power had continuously begun to rise, and she had accumulated a myriad of other projects. We often joke that Waithe was scooping up all the jobs out here, but maybe it's worth noting that this very fact could have stretched her way too thin to be able to handle this situation appropriately. Because, while she had other lucrative projects that required her attention, The Chi is her baby. She even acknowledged this—it's her name that's at the front of the show. She also confirmed she'd a conversation with Mitchell about his behavior and demanded he respected all women on set.
"What I want to do is own my part in it," Waithe admitted.
Waithe confirmed she and Boone previously had a conversation on the matter and has chosen to keep the details of that discussion private out of respect for Boone's privacy. But Waithe did acknowledge how inappropriate the alleged behavior was.
"What I want to do is make things right with Tiffany on a personal level," Waithe said. "Because she don't deserve to be dragged. She's someone who we should actually be protecting. She's someone I stand next to. To me, she's representative of a lot of women of color who are ignored, silenced, and pushed away."
Waithe later confirmed Boone preferred to "put this behind her," adding that she ultimately wants Boone and her fiancé, Dear White People's Marque Richardson to be able to move forward with their lives and careers.
"I can't fix Jason Mitchell; all I can fix is my behavior moving forward," Waithe concluded. Hopefully, this is a sobering learning experience for her. Hopefully, Boone, the unnamed actress, and Floyd are doing well and finding peace, love and support.
Hopefully, this type of shit doesn't continue.