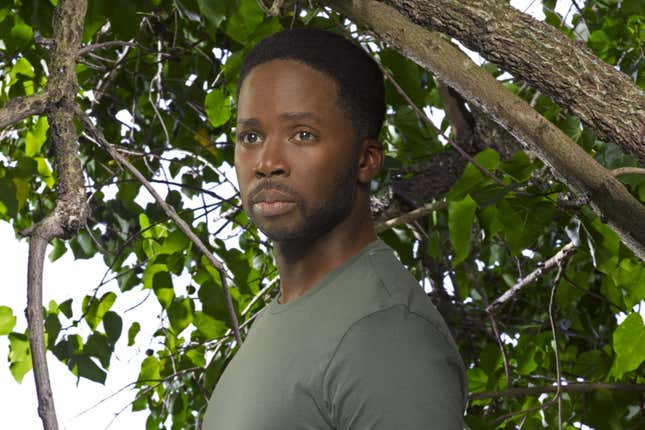 If you think the internet went crazy for the Succession finale, you should have seen how insane things got in the early 2000s when Lost became everyone's TV obsession. The ABC series about plane crash survivors stranded on a mysterious island captivated fans with its endless string of questions. However, like with most instant hits, there was also plenty of controversy and scandal happening behind the scenes. If you were a day one viewer, you definitely remember how original cast member Harold Perrineau's Michael was featured less and less as the first two seasons went along. Well, it turns out there was a reason for that and it's exactly what you're thinking of.

Real Housewives of Atlanta's Kenya Moore On Season 15, Cynthia, and Hair care
According to an excerpt in Vanity Fair from Maureen Ryan's book, Burn It Down: Power, Complicity, and a Call for Change in Hollywood, Perrineau said that in the first season "It became pretty clear that I was the Black guy. Daniel [Dae Kim], who played Jin, was the Asian guy. And then you had Jack and Kate and Sawyer."
Things got worse for him and his character in Season 2 when Malcolm David Kelley–who played Michael's son, Walt–had a growth spurt between seasons, and instead of coming up with an interesting reason on their supernatural thriller, producers decided to have the boy kidnapped by the Others, a mysterious group living on the island. Perrineau didn't appreciate how writers had Michael show very little interest in his son's fate, so he went to the showrunners to complain. He told them, "I don't think I can do that. This is just furthering the narrative that nobody cares about Black boys, even Black fathers."
During a phone call with executive producers/co-creators Damon Lindelof and Carlton Cuse, The Best Man actor told his bosses: "If you're going to use me, let's work. I'm here to work. I'm good at my job and I'll do anything you want. Except be 'the Black guy' on your show." We did eventually get flashbacks focused on Michael, but anyone watching the second season could see the writing was on the wall. Perrineau reveals that when he was told he wouldn't be back for Season 3, Cuse reportedly said, "Well, you said to us, if we don't have anything good for you, you want to go. [Y]ou said you don't have enough work here, so we're letting you go." For his part, the book has multiple sources stating that Lindelof said, "[He] called me racist, so I fired his ass."
In case you need more proof that race was an issue for these producers, the Lost chapter of the book also features a story about the death scene of Adewale Akinnuoye-Agbaje's Mr. Eko. While suggesting possible ideas, Cuse had an idea that sounds like he wanted to portray the character's lynching.
"Carlton said something to the effect of, 'I want to hang him from the highest tree. God, if we could only cut his dick off and shove it down his throat.' At which point I said, 'You may want to temper the lynching imagery, lest you offend.' And I was very clearly angry," Monica Owusu-Breen, a writer on Season 3, recalled. Mr. Eko was eventually killed by the Smoke Monster. The book describes other writers and staffers in the room who heard Cuse's comments on the scene.
In the excerpt, Owusu-Breen reveals that the atmosphere on the hit show was so racist, sexist and toxic that comments like these weren't seen as offensive or unfit for a professional environment. Basically, it was a shit show.
Lindelof responded to the allegations about the toxic workplace created on Lost, telling Ryan, "My level of fundamental inexperience as a manager and a boss, my role as someone who was supposed to model a climate of creative danger and risk-taking but provide safety and comfort inside of the creative process—I failed in that endeavor."
On the subject of hiring women and writers of color and how they were treated, he added, "As long as there are one or two [writers] who don't look and think exactly like me, then, then I'm okay. I came to learn that was even worse. For those specific individuals, forget about the ethics or the morality involved around that decision, but just talking about the human effect of being the only woman or the only person of color and how you are treated and othered—I was a part of that, a thousand percent."
Being inexperienced is not an excuse for fostering racism and sexism in the workplace. Even if it's your first time as a boss, you should still know how to treat people with basic respect and decency. There is no justification for Lindelof and Cuse unapologetically creating an environment where writers were crying at their desks and actors were fired for expressing concerns about their stories. There's no denying that all of this scandal definitely affected the series' quality because it drastically declined in later seasons. Now, Lost, once considered one of the best TV shows of all time, feels uncomfortably unwatchable.