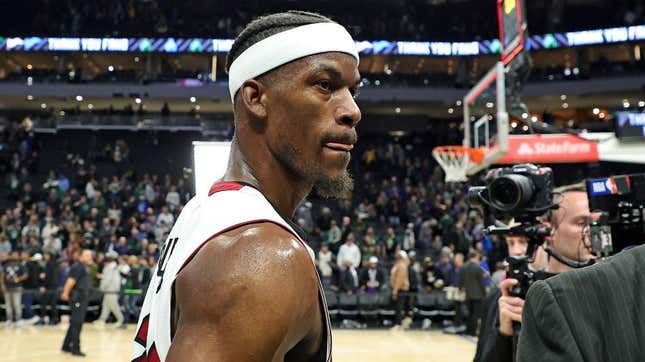 Jimmy Butler is the best player in this year's NBA Playoffs. I can't believe I'm saying it, but it's simply an indisputable fact after two weeks of postseason basketball. Will it stay that way for three more rounds of the playoffs? I doubt it. But for now, it's unfathomable to think about what he just did to the Milwaukee Bucks.
White Men Can't Jump Stars Teyana Taylor & Sinqua Walls Play "My Favorite Things"
In the five-game series against the team with the best record in the sport, Butler averaged nearly 38 points, six rebounds and five assists on 60 percent shooting from the field. Those numbers don't even sound real! On top of having an incredible series, on Wednesday, he hit the game-tying layup to force Game 5 into overtime.
The more and more I watch this clip, I can't even believe what I just saw.
Putting Jimmy Butler's playoff performances in Context
During the regular season, Jimmy Butler is a good player. But during the playoffs, he turns into an all-time great player and on the same level as some of the greats (KD, Steph, Giannis, etc). Many people on social media have compared him to Michael Jordan because of his high-level performances (and his looks).
The only difference is, MJ didn't raise his level in the playoffs, he was equally as awesome in the playoffs as he was in the regular season. He was the best player in the league and he just continued to stay the best when it counted the most.
Butler, on the other hand, is a good player who's made multiple All-Star, All-NBA teams and All-Defensive teams, but nobody would confuse him with some of the top-tier, MVP-caliber players in the association. But during the postseason, it would be disrespectful to not lump him in with some of the best players in the league.
To put into perspective how good Butler has been in his playoff career with the Heat, let me share some numbers:
In 201 career regular-season games with the Heat, Butler has scored more than 40 points zero times. In 47 playoff games with the Heat, he's scored more than 40 points eight times.
Butler has scored the fourth most points in a single playoff game in NBA history (56), behind only Michael Jordan, Elgin Baylor and Donovan Mitchell.
He's one of just four players to lead their teams in points, assists and rebounds in a Finals series, joining LeBron James, Tim Duncan and Magic Johnson.
Do you see what I'm talking about? Jimmy Butler is simply not a real person and I still can't believe what he just did to the best team in basketball with the best basketball player in the world.