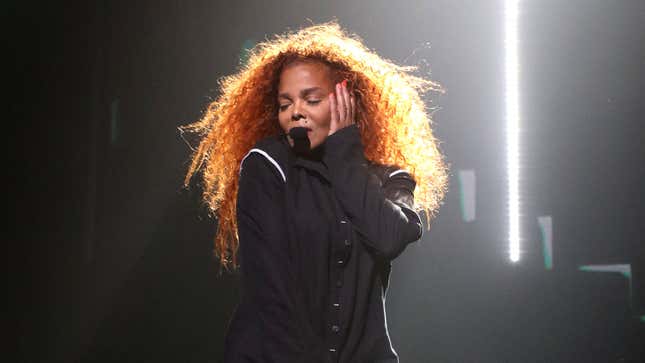 Tackling A Black Maternal Health Crisis & Embracing Reproductive Justice | The Root Institute
I believe everyone has a shortlist of people they've always wanted to see perform live but never really had the chance to. For me, that list consists of folks like Whitney Houston or Michael Jackson. However, there's a sub-list of legendary people who are (thankfully) still here on earth that I haven't seen on stage. To be completely transparent, every time I receive news of yet another celebrity death, a rush of panic colored with anxiety rushes over me. I find myself trying to grasp at the chance to not only give flowers to the artists I love and admire but relish in the flowers' lovely smell whilst in their presence.

Janet Jackson was on that sub-list—until recently.

When I received that fabulous email informing me that my birthday piece dedicated to her was forwarded to her team, a childlike squeal reverberated through my body. But, when I received another otherworldly email offering coverage of Janet Jackson: Metamorphosis in Las Vegas, a second squeal affixed itself onto my throat and I was unable to speak for a solid few minutes. "How is this my life?" I asked myself. (Disclaimer: My fabulous bosses at The Root footed the bill to send me).

Little did I know, this concert would be a chapter of my very own personal Metamorphosis tour (ah, such is life!). While it may be quite cliché to exclaim that one is "forever changed" because of an epic experience, such as witnessing the glory that is Janet Jackson, it doesn't make it any less true. I am different now. I feel different. Evolved.

And so is Janet. "I am a mother. I love saying those words," she said toward the end of the concert, taking an obvious moment to reflect on the thrilling path she called her life. It was her ultimate metamorphosis; she had carried an entire human being and was the vessel of giving him life. As I soaked in each and every moment of the concert, there were a few observations I took home riding that (bumpy and brief) plane ride back to Los Angeles and, as such, I want to share them with you. Especially for those of you who may still have Janet on your "sub-list." I want you to feel as if you were there.

1. Metamorphosis was a true matriarchy, filled with the type of female empowerment that is especially needed during a time when our agency and bodies are being threatened by the government. I have to admit, it felt extra good to relive Janet's Control era. (Hey, I was only two years old at the time of its debut, but this is why archives exist!)

2. From "Feedback" to "Made for Now," Janet took us on a fantastic voyage of her unmatched catalog. Hearing the crowd go crazy over the first beats of their favorite hit was priceless.

3. Speaking of the crowd, there's a special sense of community when a large group of strangers all congregate for the same purpose. We may not have known each other, but as I watched my fellow concert-goers mimic Janet's choreography while singing along to her hits, I noticed I was subconsciously doing the same. Heh. She has that effect.

4. While we're on the topic of dancing, Janet still got it, y'all. Seriously, the precision! The way she hits every beat with a firm smoothness is what makes her so iconic. She danced her ass off! There's no one like her and likely never will be.
5. Stepping aside from Janet for a moment, I have to give props to the elite set design and costuming (they gave us Marie Antoinette, leather and Ankara, to name a few!), lights and pyro work. All of it was effectively stimulating.

6. I'm going to say this with confidence: Janet Jackson's sensuality and sexual appeal is completely unmatched. Like with many Janet shows, I was awaiting the infamous "sex tease"-esque performance where she brings a randy man onstage. In this iteration, Janet legit remained on the balcony singing "Any Time, Any Place" for at least a couple of agonizing minutes while her dancers teased the lucky guy, as he desperately looked back for Janet's impending arrival. Then, at the very last moment, she strutted over and planted the softest kiss as the room went dark. Whew. Seriously, how is Janet able to effectively balance that cherub-cheeked innocence (her giggles are adorable) and femme fatale-esque sex appeal without seeming like she's trying too hard?! It is magic. She is magic.

7. Given their special relationship, I was definitely expecting a Michael Jackson tribute, but I wasn't expecting the deft subtlety of a "Rock With You"/"Rock With U" splice equipped with the green lasers of Michael's music video. Toward the end of the show, she and her dancers re-created one of the Jackson 5's famous dance renditions (That point! Yep, we all did it with her).

8. Janet's testimony of her metamorphosis in relation to this very specific residency was particularly poignant. To catch a few breaths, she took the time to reminisce on her first performance at the MGM Grand when she was just 7 years old and compared it to now, at the Park MGM. What a surreal circle of life. 2019 is a big year for Janet, not only because of this major residency but because her socially conscious album Rhythm Nation 1814 is turning 30 this year.
So, perhaps now you can understand how I am, indeed, "forever changed" by such a performance. Hell, it wasn't just a performance, it was an experience. I am elated that I finally get to check off Janet on my sub-list.

There's still one dream pending, however. While I didn't get to meet her in person in Las Vegas, I'm going to take Ms. Jackson's advice and "wait awhile." I'm manifesting it now.