Earlier this week, I limped into a swanky Midtown hotel. Less than 24 hours before, I'd finished the most grueling physical challenge of my life (thus far).
In order to get to said hotel, I slowly walked up and down the stairs of the New York City subway. I was having a tough time going up the stairs and a middle-aged woman offered a few empathetic words: "Take your time. I just had knee surgery, so I know how you feel."
Thanks, Sis.
Soreness be damned—Jada Pinkett Smith was in town.
Once inside the hotel, there was a front desk before the actual front desk. After being checked-in, and escorted to an elevator (yes, escorted)—victory. Finally, I walked into the room where Pinkett Smith sat, wearing all black, with long golden brown braids covered by (what looked like) a warm black hat. I said "Hello!" and she looked up from her phone. Her eyes lit up and smiled with a warm "Hi!" Suddenly my limp was gone, and I walked to the table—unfortunately, not a red one. But it was all good. Intuitively, I knew that this would be a great conversation.
Red Table Talk on Facebook Watch is an intergenerational storytelling show that emphasizes sharing experiences—not advice. As black people, storytelling and oral traditions have been critical to our culture, so it's fitting that Pinkett Smith hosts the show with her mother Adrienne Banfield Norris and daughter Willow Smith.
The award-winning actress's decision for Red Table Talk to focus on an exchange of life experiences came out of her personal moments of adversity. During what the actor describes as "a very tough time," three women—Salma Hayek, Pauletta Washington and Ruby Dee—took time with Pinkett Smith and consoled her. They shared their own experiences with the actress. These conversations were so powerful, so healing that they changed the trajectory of Pinkett Smith's life.
G/O Media may get a commission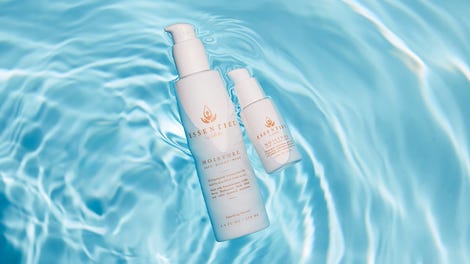 20% off
Essentiel by Adele
"They held nothing back. It was so raw" she recalled. "I was like, 'This ain't cool. This kind of information needs to be out in these streets!'"
Around that same time, there was another—somewhat unexpected—prompt leading her to the [red] table: Her daughter. "Willow, during that time as well, was like 'Mommy, I really don't know you. I know you as my mother, but I don't know you.'"

As Willow, who is the baby of the family, became more and more inquisitive about who Pinkett Smith actually was—the actress realized her daughter knew nothing beyond the cloak of motherhood. "She [Willow] knows nothing about my passion to know anything about my mother's past." Pinkett Smith continues, "I was like, all right."

And so, the Red Table Talk was born.

In the year since Red Table Talk launched on Facebook Watch, the show has garnered over 6.7 million followers and has become known for being a place of vulnerability—for guests and hosts alike. It seems that guests enter the Smith household, sit at the red table, and with ease reveal to Pinkett Smith and her family what they otherwise might not share in a public forum. Baring one's soul—the good, the bad and the ugly—isn't quite that easy. Notably, Pinkett Smith is good at making people cry, but on the show, she's shed a tear or two herself. As we spoke, she said she's working on making herself more vulnerable.
"I'm at a certain level of transparency. OK. There's a lot more to talk about," she said, wanting to set the record straight. "This is a level of transparency. There is a lot more to my story that has not been told yet."
As the mother of two is still peeling back her own layers, Pinkett Smith said it took "years and years and years and years and years" of healing—individual and collective—to be in a space to host what has quickly become known as a therapeutic talk show.
"It took a lot of healing, a lot of individual work with myself. My mother did her work. Willow was doing her work. [We had] to do some work together so that it even made it possible for the red table to occur."
Furthermore, the Baltimore native acknowledged that there must be a certain sense of safety and comfort for guests to dig deep and really talk. Part of the comfort Pinkett Smith and her family are able to offer is due to shared experiences she (or Willow, or Gammy) has with guests. That the hosts work to bring on guests who have experienced traumas that they themselves have experienced is intentional.

In the most recent episode of Red Table Talk, the table invited Demi Moore and her daughters, Rumer and Tallulah Willis, to the show. Both families have dealt with issues of addiction, co-dependency and self-worth.
"When Demi's people first called, they were like 'We'd like her [Demi] to come and talk about her book.' And I was like, OK. I was like, well, here's the perspective of a book that intrigues me: The generational trauma." Pinkett Smith, whose family strongly believes in therapy, has dealt with her own generational trauma and was particularly interested in generational trauma faced by Demi Moore and her daughters.
If you check out the episode, you'll notice that Moore had a deeply healing moment with Willow. The thing is, these healing moments—through open conversations, tears and acknowledging trauma—happen episode after episode. My theory: Guests come to Red Table Talk to become well or, through sharing their stories, help the audience have the courage to begin dealing with their own trauma and begin moving towards healing. But even as the series creator and the table's main facilitator, quite humbly, Pinkett Smith doesn't refer to herself as a healer.
"I mean, I'm not the only one at the table. Right?" said Pinkett Smith. "The intention of the table is the healer."
"Coming to the table, sharing your story and [coming] in with your honesty, no matter how flawed it might be, no matter how raw it might be, that is the healing component. It is the energy that you bring to the table."
"I wish I was a healer. I wish I could just touch you," Pinkett Smith laughed and touched my knee, making me wonder whether or not my limp actually went away.
The humble queen went on to acknowledge the presence and contribution of each and every person who is at the table. Every offering is critical: The energy, the transparency, the love.
Love is particularly palpable, especially with the three hosts, who share a specific kind of love: Black family love.
"Part of creating the table and part of having three black women from the same family at the table—specifically mother-daughter—is because I do want us to remember culturally the power of black love."

Pinkett Smith's eyes pierced as she spoke. "And black love is not just for black people, that's another thing. And I know that in these times, black love is very precious and we can feel as though we have to own it, and it's something just for us. But black love is so powerful and so, so much the origin, you know, that it can hold a lot. Specifically, black female love. It's something so special about it."
I looked on and nodded, able to feel the sincerity in her voice.

"And that's not to take anything away from our white sisters, our Asian sisters, our Indian sisters; no other woman," she continued. "We can love ourselves and love others as well. That's how deep and powerful our love is. And so part of [Red Table Talk] is also, in my mind, kind of helping us to remember that."
We looked at each other, both with watery eyes. And we smiled. As a black woman, I felt affirmed. My limp may or may not have been healed, but my heart was full.
Correction: Friday, Nov. 08, 2019, 9:28 p.m. EST: An earlier version of this story incorrectly stated that Red Table Talk on Facebook Watch has over 6.7 followers. Red Table Talk on Facebook Watch has over 6.7 million followers. We regret the error.