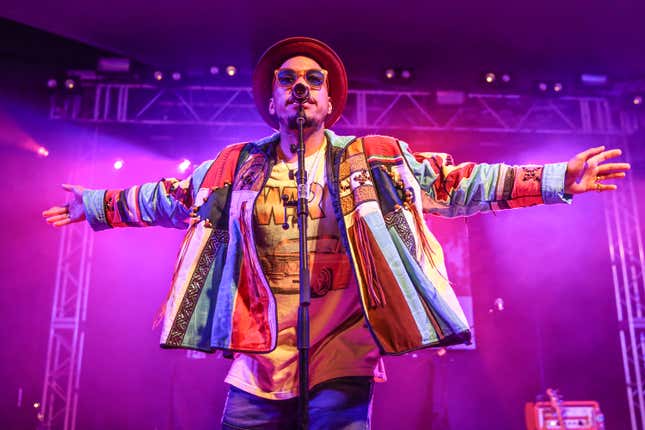 What do you give the man who has everything?

From Grammy Awards to an elusive Dr. Dre co-sign to an extremely lucrative Las Vegas residency, Anderson .Paak—born Brandon Paak Anderson—seemingly has it all. But when you have a limitless well of gifts to draw from, it's abundantly clear that the Oxnard, Calif., native has barely scratched the surface of his potential. So why not "Leave the Door Open" for it?

Justice Smith Talks New Dungeons & Dragons Movie, The Get Down On That's So Random
To that end, in speaking with The Root, the 37-year-old had much to discuss about his multitude of musical personalities, his forthcoming first foray into feature film, and his unwavering commitment to community outreach—and Don Julio.
This interview has been edited and condensed for clarity.
After a very successful 2022, I think it's safe to assume that you have every intention of keeping that same energy in 2023. So let's talk about your upcoming project, K-POPS! What made you decide to expand into film and how are you approaching your feature directorial debut?
It happened in quarantine. I had a lot of time to think and spend time with my family and kids. I was getting really restless and antsy because I hadn't spent that much time in the house in years. I'm used to putting out material and touring all year. So when I had to sit down for a while, I was looking at my kids like, "Well, what are you guys into?"
My son [Soul Rasheed] is obsessed with being a YouTuber. So I was like, "Okay. That's what we're doing? Let's get your subscribers up! Let's make some skits. Let's do something." So we started making skits and making these funny bits. I was in there filming him and editing his YouTube videos so he could make it to a certain amount of subscribers and I was having so much fun doing that. And as I was up at three in the morning trying to edit one of his clips so we can post it by noon, I'm like, "Man, I want to make a movie. This would be so much fun."
I got to really see how talented he is and how he has the ability to improv. He has a natural thing that inspired me. I've always been into film, always been into editing. Even in high school, we used to make little short stories and little homemade films. So working with Soul brought me back to that feeling.
After that, I started writing K-POPS! for us. It's based on exploring Korean and Black culture, Korean and Black families, and K-Pop. I wanted to make something that was heartwarming, informative, and funny. So I sat down with a very talented co-writer who helped me write the script named Khaila Amazan. We were in there with [rapper] Dumbfoundead and we created a writing room. During that process, I learned so much about how to plot, story arcs, and everything. Greg Silverman, who runs Stampede Ventures, was one of the first people we pitched it to and he was on board from day one. We've been trucking away, trying to make the best movie we can. I've been obsessed with that for the last year or so. So I'm really excited about that and film in general as I continue to grow and learn.
Yeah, film is no joke. But how exciting is it to be able to work on this project with Soul?
It's dope! I'm his biggest fan. He's Mr. Cool. He's got a natural thing I want to capture. We're getting to spend a lot of time together and it's a dope way for us to bond and sneak in more daddy-and-son time because he's a big mama's boy. It takes a lot for him to spend a whole week with just his dad. But it's been dope. I've been learning a lot about what he's capable of. He's been doing acting classes and we've been doing classes together. It's almost been like therapy for us. It's really a lot of fun and I've been learning a lot about him.
That's beautiful, man. As a father myself, I love to hear that. But aside from film, you've come a long way from your early days as Breezy Lovejoy and it's been like seven years since the last NxWorries album. Why is now the perfect time for you and Knxwledge to reunite?
Everything comes full circle. A lot of people don't know that when Knxwledge and I signed to Stones Throw Records that that was one of my first-ever record contracts. When we were coming up, I was trying to get somebody to pay attention to me and I couldn't buy a deal. And when I met Knxwledge and we started making music, I found out he was on Stones Throw. I was like, "Wow, you're on one of the biggest underground labels!" They put out J Dilla, Madlib, and MF Doom—all these great albums I loved. So I was begging him to play some of the stuff we were working on for Stones Throw and they were taking forever to get back to us. I had lost hope. I was like, "Whatever, man. Let's just keep making music."
While working on music, Knxwledge thought we should have a group name. And I'm really glad we did because it always gives me the freedom to tap back into something different. I'll always have the freedom to go in and do something completely different with Knxwledge or with Bruno as Silk Sonic. I'll always have the freedom to do Free Nationals or DJ Pee .Wee. All these different musical personalities are a lot of fun for me because I can get bored doing the same thing. I don't like to be comfortable. I like to push for different sounds and I feel like me and Knwwledge's sound, NxWorries, is really needed right now.
I know a lot of longtime fans are thinking, "I hope he doesn't forget about where he started." If it wasn't for Knxwledge and songs like "Suede", I don't think I'd be signed to Dr. Dre to this day. That was the song he heard and gravitated towards. That's what got me in the studio with him. I owe a lot to that sound and I feel good circling back and giving them another album. And even though it's been a few years, it's shaping up to be an amazing album.
So what can we expect from this album? Are you two using a different approach to the music or your creative process?
Nah, I just do what Knxwledge says. [laughs] It's fun because I like working with one producer. At least you know things are gonna be in a certain pocket. It keeps me in certain parameters that I might not be doing as Anderson Paak. If it's up to me, I'm gonna do a whole array of things. Malibu had a lot of different producers and stuff. It had a lot of different tastes; we floated around different worlds. When I work with only one producer, I'm able to reel it in and create something more cohesive. I'm trying to meet Knxwledge halfway because he's delivering all the time with the production. He has thousands and thousands of beats. To keep him excited, to keep his attention, you have to deliver and keep it fresh. He keeps me on my toes, so you can expect something fresh and new. We're doing things we've never done before.
That's whassup. And word on the street is that y'all got a tour on deck too, right?
Yeah, we got a little tour. We're gonna be in Europe doing festivals and we got some headline dates too. We'll be announcing some more stuff soon. That'll be dope to be on the road.
Now, with me being an L.A. resident, I'm familiar with .Paak House, but there are a lot of people out there who aren't. What made you decide to start doing this event and what about it brings you the most joy?
I love throwing parties. One of my favorite things to do is give people an experience that they'll never forget. To see people have fun and unite that's partly why I love deejaying, why I love to perform, and why I started playing drums. I just love having a good time and there are a lot of underserved communities that don't get a chance to see these world-class shows. There are a lot of people that never get a chance to see what it's like to be at a festival. That's a privilege for a lot of us. There are a lot of people that work all year round just to put food on the table and they can't afford things like school clothes or even haircuts or just one night out to have a good time and see live music. I feel like that's something that if you're exposed to early enough, could change the course of your whole life. That's what happened to me. So if I'm able to create a platform and share that experience, then that's what I want to do.
It's been dope because all the artists that are part of it, they all feel the same and they're all sharing their time. No one's being paid. They're coming out and delivering the show and they're out there with the community. To see these kids' faces, the adults and everyone there that's always the highlight of the year. I couldn't do it without my team. It's hell to put on. But every year we always look around like, "Damn. We pulled it off again." We couldn't do it last year because of the coronavirus and different things, but I'm really excited about this year's. It's gonna be one of the best ones yet.
How did the partnership between you and Don Julio come together?

Don Julio's always been the go-to for the party—the night vibes. They told me they were doing this new Don Julio Rosado and I was like, "Okay, tell me more!" I got a taste and it was automatic. I was like, "Yo, why wait for the night? This is like some daytime party vibe." You can sip it with a little spritzer or just straight up on the rocks. It's nice and light, perfect for the daytime. I've been deejaying, traveling and going from Miami and New York and all these places and Don Julio is a guaranteed party starter. This new vibe that they got is definitely dope, while the sun is up and takes you into the night. So I was on board, for sure.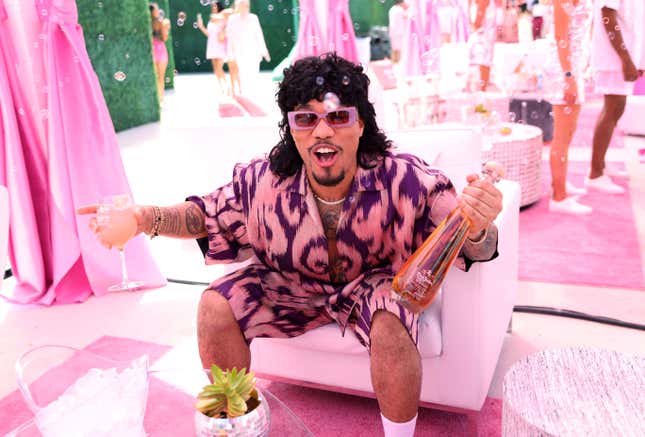 With DJ Pee .Wee? That's my guy!

Yeah! Ain't no telling what we're gonna have, bro!

You know what though? DJ Pee .Wee is cold on the turntables, but it's the trumpet player that sets it off.
Yeah, he's kind of a show-stealer, man. [laughs] That's Maurice Brown, bro. I can't even do a show without him now! But I really appreciate you, man. Much love to the fans, all the patient people that've been riding with me from day one. I love you, I'm nothing without you, and I can't wait to party with you soon.