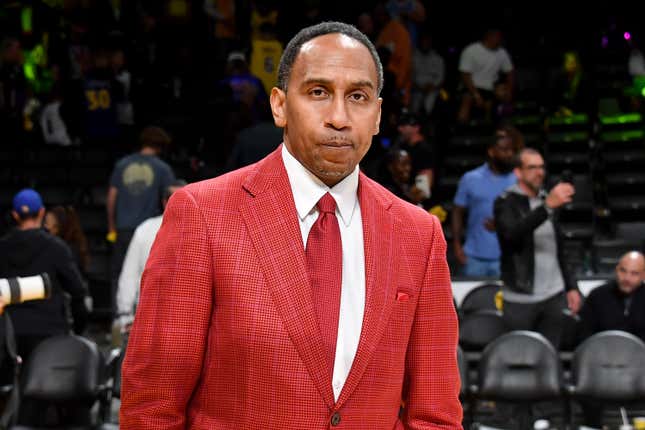 ESPN shocked fans on Friday when it laid off several high-profile on-air personalities. Among the popular analysts and commentators who are no longer with the network are Jalen Rose; Jeff Van Gundy; Max Kellerman; Keyshawn Johnson; Steve Young; and Todd McShay. In the midst of all this upheaval, the network's biggest star, Stephen A. Smith, has commented on his colleagues' exit, as well as his future with ESPN.

Stephen A. Smith Waited Until His Mother's Passing To Write His New Memoir
"ESPN laid off about 20 members of its on-air talent … friends of mine, actually, definitely respected colleagues who'd done a phenomenal job and deserved better," he said on The Stephen A. Smith Show. "It's not Disney or ESPN that they deserved better from, they deserved better than the times we're living in."
These are the latest cost-cutting measures from ESPN's parent company, The Walt Disney Company, which in recent months has laid off around 7,000 employees across its various brands and properties. During his show, Smith also took time to show love for his NBA Countdown cohort Rose, noting how he enjoyed their time together.
"Got a lot of love for that brother," he added. "A lot of the great work he's done over the years, what he's represented for the company… I'm going to miss him. Jalen Rose has always been good to me and I loved working with him on NBA Countdown. He is a brilliant basketball mind, he is somebody that worked his ass off all the time. There was never an assignment he backed away from, there was never a time he didn't want to work."
The First Take star went on to discuss the possibility of his name being included in a future round of layoffs, saying that he doesn't take his success for granted.
"If we're going to be real about it, let's deal with reality," he said. "This ain't the end, more is coming. And yes, ladies and gentlemen, I could be next."
Well since you want realness Stephen A., let's get real. You are without question, ESPN's biggest star. I appreciate that you don't want to get too comfortable, but they are not about to lay you off anytime soon. They are not letting all the ratings, page views and engagement that you drive head to a rival network. However, I know you're trying to be supportive of your former co-workers, and I'm sure they appreciate your sentiment.