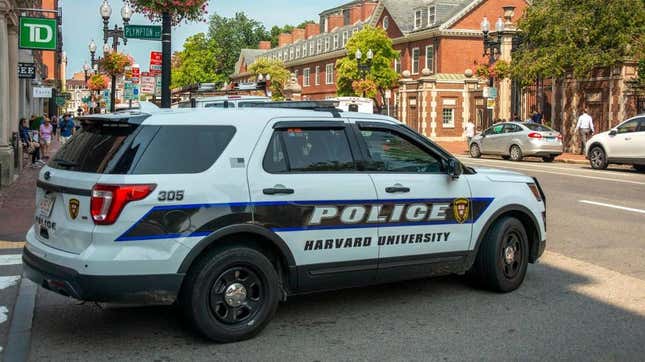 Early Monday morning, four Harvard University students were sleeping in their undergraduate suite trying to get as much rest as possible before the new school week began. But, at around 4 a.m., they were awoken by noises of banging on their suite door and commands for them to open it.
American Ninja Warrior: Season 15 Is Our TV Pick of The Week
They did, which is when they were confronted by five Harvard University police officers with riot gear on and assault rifles in hand. They were then instructed by the officers to raise their hands, exit their rooms and enter a nearby suite, all while officers pointed assault rifles directly in their faces, according to The Harvard Crimson.
While one might think this was the result of a life-threatening situation occurring on campus, in actuality, it was the result of a hoax 911 call.
More from The Harvard Crimson:
HUPD spokesperson Steven G. Catalano said in an interview that Harvard University Police were dispatched to the building after a report "threatening violence against occupants." The officers searched the Leverett House suite with "negative results for an individual with a firearm or any persons acting in a suspicious manner," Catalano said.
The victims of this hoax call were Harvard seniors Jarah K. Cotton, Jazmin N. Dunlap, David G. Madzivanyika, and Alexandra C. René. An officer later explained to the students that a false report was filed to the Harvard University Police Department and it led to them believing there was a threat in the building, hence the riot gear and assault rifles.
According to The Harvard Crimson, Cotton and René, both received a call from the police a half hour before the raid, but they understandably did not answer, since they were in the middle of sleeping.
This hoax call is an example of "swatting," which is similar to prank calls you may have made as a child, but the difference is that they are made to lure police into a particular location where they are led to believe that a horrific crime is occurring or has already happened.

They have been occurring all over the country for years and have increasingly targeted schools and universities following the horrific shooting that occurred at a Nashville school a week ago.
Thankfully, the FBI is working with Harvard police to find the suspect in this latest "swatting" hoax, according to The Harvard Crimson. But, it does not change the heinousness of the incident.