The killing of Walter Scott, an unarmed 50-year-old black man fleeing the police after a traffic stop, is the latest example of what appears to be a national assault on black bodies.
We are living a national nightmare. The names and faces may change, but the bad dream remains the same. An unarmed black man, woman or child—middle-aged, teenage, sometimes (such as in the case of Tamir Rice) as young as 12—is shot down in cold blood by police officers who claim self-defense. 
Last year, public outrage over these events sparked an international social-justice movement in the form of #BlackLivesMatter. These demonstrations helped inspire President Barack Obama's White House Task Force on 21st Century Policing and the Justice Department's withering report on institutional racism in the Ferguson, Mo., Police Department and city management.
The Interim Report (pdf) of the president's task force offered positive solutions to repairing police-community relations, including fostering trust, revising police training and education, bolstering officer safety and wellness, providing new technologies (including body cameras), and promoting collaborative efforts between citizens and law enforcement on police oversight.
Although important, these suggestions do little to halt the outrage and fury of witnessing another black man being shot to death by a white police officer. But at least in this case, Michael Slager, the officer who shot Scott, has been charged with murder. However, without the video evidence of the shooting, the police cover-up would have surely been maintained.
G/O Media may get a commission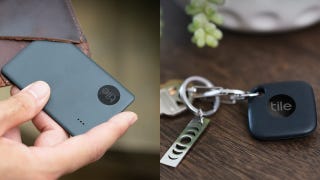 Up to 35% off
Tile Item Trackers
As a nation, we have to ask ourselves, how many other black and brown men and women have been similarly executed over the years?
These unjust deaths are even more infuriating because they have become normalized in American culture. Racist police shootings of black men are not simply an epidemic but, rather, the status quo that even White House task forces and DOJ investigations are helpless to eradicate.
America's criminal-justice system is the gateway to a system of racial oppression.
It feeds off the intimidation, harassment, arrest, incarceration and murder of black and brown bodies. Its insatiable appetite targets children in public schools, especially the rambunctious black boys who have been led from schools and playgrounds in handcuffs, their first taste of what will be lifelong surveillance by law enforcement.
Police officers are the front line of this system that reflects the larger attitudes, biases and blinders of citizens, politicians and corporations—and which scapegoats the most vulnerable black people. Prosecutors who routinely charge blacks with felony indictments while letting whites off, and judges who hand out harsher sentences based solely on race, are the legal equivalent of killer cops in this scenario.
Politicians who successfully pushed for three-strikes legislation and welfare reform (courtesy of Harlem fave former President Bill Clinton) that makes it impossible for ex-offenders to gain much-needed benefits, as well as crime bills that have weaponized local police forces at the expense of black communities nationwide, are the national face of this new normal.
Behind the scenes are the oligarchs, the Koch-brothers-funded American Legislative Exchange Council and other shadowy entities that prey on fear and ignorance to pass punitive public policies designed to harass and debase the poor and working class.
Perhaps the biggest culprit in all of this is the American people, including African-American elites who have allowed respectability politics to muffle their outrage and insulate them from a criminal-justice institution that stigmatizes, punishes and, in certain instances, kills black bodies without compunction.
The travesty of our time is that America has normalized black criminality so much that we find hope in scraps of justice rather than the real thing. That life goes on in a world where another black man is killed by police in broad daylight is the tip of the iceberg in our ongoing national nightmare. 
Peniel E. Joseph, a contributing editor at The Root, is professor and founding director, the Center for the Study of Race and Democracy, the Lyndon B. Johnson School of Public Affairs at the University of Texas at Austin. He is the author of Waiting 'Til the Midnight Hour: A Narrative History of Black Power in America, Dark Days, Bright Nights: From Black Power to Barack Obama and Stokely: A Life. Follow him on Twitter.