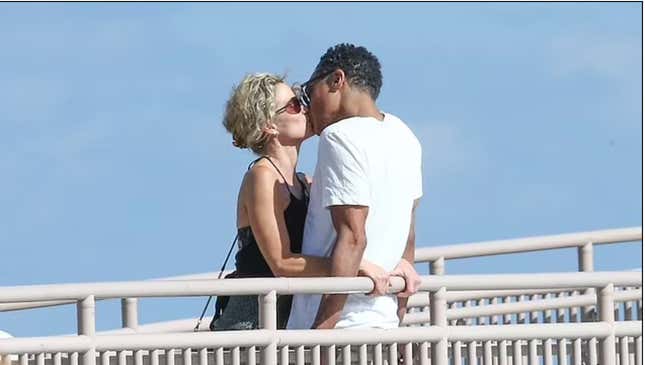 Daytime television's most talked about couple is getting it all out in the open, literally. Good Morning America 3 co-hosts turned lovers, T.J. Holmes and Amy Robach were recently spotted on a Miami Beach getaway in their first public appearance since the scandal broke. Despite Holmes' recent filing for divorce from wife Marliee Fiebig, and Robach's very current marriage to Andrew Shue, the two weren't at all shy to pack on the PDA.
Debra Lee On Greenlighting BET Hits Being Mary Jane & The Game | Securing the Bag: Part 2
Photos obtained by Page Six show Holmes and Robach getting hot and handsy in the beachside city, with the couple arm in arm, Robach clinging to her new beau as if he were the last man on earth. The two were also seen strolling on the pier, kissing in broad daylight, and sharing cocktails on the Miami restaurant scene.

According to People, the new pair also has been traveling together between Atlanta and New York before arriving in Florida. The outlet reported that the two "spent the holidays together and are spending all of their time together right now. They are fully in a relationship. They are not hiding anything because they have no reason to."

Fans also noticed that Robach recently reactivated her Instagram account after taking it down briefly once the news of the romance broke. Rumors began circulating about the canoodling co-hosts back in November, but the sources close to the two say that they've been seeing each other since March of this year. And while they have each been estranged from their respective partners, T.J. Holmes' wife says that she was completely "blindsided."

"She's devastated. She had no idea," a source spilled to Page Six in early December. "They haven't been together in [a while], but they were trying to work it out.

There have been no murmurings from Robach's husband about the "affair" but her stepson Nathaniel Shue is apparently with all the shade. Over the holiday the 26 year old posted a pic of himself, his brothers and his father without Robach, captioning the post: "Riders on the storm. On to '23."