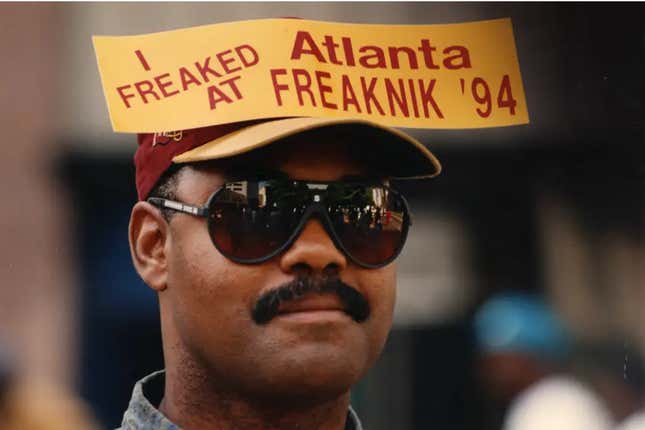 Last week, we told you about Hulu's plan to release its forthcoming documentary centered around the highly popular (and widely criticized, but more on that later) 80s-90s festival, Freaknik.

While an official trailer for Freaknik: The Wildest Party Never Told has yet to be released, the streamer says that the upcoming project "recounts the rise and fall of a small Atlanta HBCU picnic that exploded into an influential street party and spotlighted ATL as a major cultural stage. Can the magic of Freaknik be brought back 40 years later?" Sounds straightforward and unintimidating enough, right?
Well, it's unfortunately now proving to be intimidating for some who experienced Freaknik during its heyday—namely Black women—because they're worried that their arguably reckless actions from back in the day will be broadcasted for the entire world to see. And if that is the case, they're also worried about what the implications and consequences will look like as a result of it (because misogyny is an unfair judge). In fact, in addition to numerous tweets and even TikTok videos of some Black women speaking out about their nervousness for the upcoming doc, a handful of prominent Black women professionals are even considering taking legal action against Hulu.
According to NewsOne, three C-suite executives and one judge are reportedly planning to file a lawsuit in Atlanta's federal court on the grounds that the doc is "unlawful" because they didn't sign any media releases. Though no official court documents have been seen, the fact that these women are willing to go so far out of fear that the footage could potentially be so detrimental to the life they've built now all these years later is telling.
From the various footage and documentaries previously done about the festival, we know that it was a GRAND ole time for some of our older sisters, cousins and aunties to enjoy themselves, enjoy good music, dance and connect with other Black folks. Whether that connection came in the form of "popping out at red lights, twerking on them headlights" or engaging in some otherwise NSFW activities, what's interesting to note is that the apprehension and over this documentary is largely one-sided. As previously stated, Black women are the main ones getting up in arms over the fun and carefree days of their youth being caught in 4K because they know that society unjustly issues them harsher judgement and repercussions for appearing or even acting outside the realm of respectability.
But what's important to note is that Freaknik wasn't just attended by Black women. It was also attended by Black men—our older brothers, cousins and uncles—who were engaged in similar behavior, but also may have also been engaged in some of the more nefarious happenings (namely rampant sexual assault and rape) as well. In fact, in the week since Hulu's announcement, Twitter has been ablaze with snippets of from previous documentaries that show women and men recounting the more horrific, lewd underbelly of the festival:
So while some Black women may be nervous for being outed for being carefree, some Black men ought to be a bit more nervous for possibly being outed for far more dangerous and criminal things. But to be clear: this isn't an "attack on Black men" as some online have purported it to be. To show the ugly truths about a portion of people in our own community shouldn't be perceived as a part of some hidden agenda—it should be perceived as a call to action for accountability and serious conversations about consent and sexual violence. It also shouldn't be taken as an opportunity to engage in "what aboutism" with regard to white people and the things they've seemingly gotten away with. (And yes, I'm talking to all you "where's the documentary on Girls Gone Wild" folks. Literally, go look it up. It's all there.)
However, the negative stories of the festival seem to hold little weight with people, especially seeing as how an attempt to bring Freaknik back just happened as recently as 2019. As previously reported by The Root, thanks to Luther "Uncle Luke" Campbell and rappers Trina and Juvenile, the festival was revived to a degree with many R&B and Hip-Hop artists coming down to perform as well as participate in community service projects. This was deemed beneficial to both people who still hold the festival in high regard and the city of Atlanta as far as revenue is concerned.
All in all, what should be noted is that we really have no clue what this new Hulu documentary will show. But what we can hope for is that it shows the truth, the whole truth, and nothing but the truth of a once-beloved festival that brings back memories to so many people for so many different reasons. Our people, our community is owed that much.