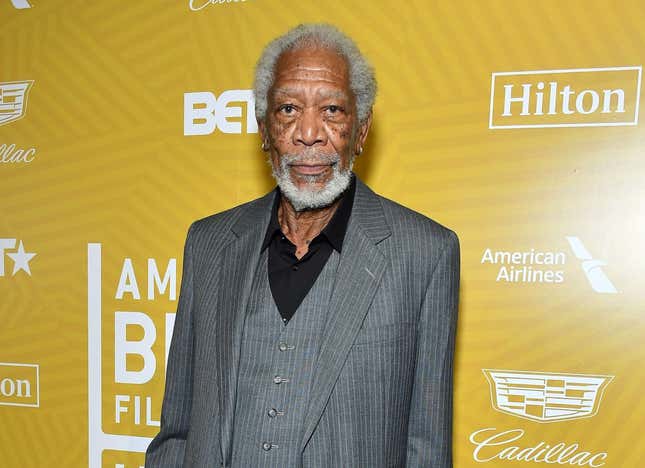 Once actors reach a certain level of success in Hollywood, they no longer have to play political games. They can take whatever roles they want and give honest, somewhat controversial interviews. Clearly, Morgan Freeman has hit that point in his career and life, because the Oscar-winner's recent interview with The Sunday Times features him discussing race in some very honest terms. The A Good Person star explained why he feels Black History Month is insulting, and he actually has a really solid reason why he takes issue with the annual February celebration.

Marlon Wayans Sings The White Chicks Anthem, Talks The Daily Show on That's So Random
"Black History Month is an insult. You're going to relegate my history to a month?" he said.
The Shawshank Redemption actor isn't wrong. It's kind of ridiculous to try and boil down the entirety of Black History to 28 days. Since it's recently become commercialized and monetized, and schools have to fight tooth and nail just to keep it on the calendar, we need to find a way to return it to its educational, dignified roots.
Freeman goes on to discuss his problem with the title African-American. This issue is definitely more complicated than Black History Month.
"Also African-American is an insult," he said. "I don't subscribe to that title. Black people have had different titles all the way back to the n-word and I do not know how these things get such a grip, but everyone uses African-American. What does it really mean? Most Black people in this part of the world are mongrels. And you say Africa as if it's a country when it's a continent, like Europe."
He's referring to the fact that other people are called Italian-American or Irish-American. However, most Black people can't trace their ancestry all the way back to a specific African country. Yes, there are DNA testing services and historical sites that can make things easier, but many Black Americans can only trace their roots back to slavery. Sadly, we don't have a family history that goes back several generations to when someone chose to come to America. African-American was a way to identify our unique heritage. Of course, these sorts of terms are constantly evolving, so in the future, we may come up with something else.